Trade show scavenger hunts can spice up your next business event and provide a little fun for everyone involved. Far from being just for kids, scavenger hunts can be used as booth promotional material, employee team-building activities, and more.
A scavenger hunt suitable for a trade show environment should be flexible and provide a few different ways for people to participate. Rules that are too strict will discourage participants, and so will overly complex clues. Exclusive prizes are a must, so don't award something people could get by going up to a random booth.
Buckle up and get some great ideas you can incorporate from your booth location at the next trade show.
Trade Show Scavenger Hunts: Fun For All
Having fun activities at trade shows helps create a laid-back atmosphere and encourages active participation. Nothing brings out people's competitive sides quite like it. In today's contact-conscious world, it's necessary to find new and inclusive ways to incorporate the same amount of fun across live and virtual channels.
As more places lift restrictions on gatherings, trade shows are once again being organized. As a business, you should be excited to get your brand out there. Activities such as scavenger hunts can get participants excited about your products just through the emotional connection.
Why should attendee perception matter? Let's check out some data about the average attendee and why you would want them at your booth.
Trade Show Attendee Statistics*
| | |
| --- | --- |
| Qualities | Percentage of Attendees |
| Executive and Management Employees | 46% |
| Have Buying Authority | 82% |
| Buy at least one product or service | 49% |
| Visit a company's website after a show | 38% |
| Executive attendees who find suppliers | 77% |
*based on multiple research companies.
Attracting the right people to your display or booth can have a major impact on your business long term. Even if they purchase nothing at that moment - getting them to revisit your business by web provides you with an additional opportunity.
Be sure to have your team members on board as you plan out activities. Even if representatives on the show floor aren't active participants, the act of organizing the scavenger hunt can be a team-building event in and of itself.
Planning a Scavenger Hunt
There are many ways to put together a scavenger hunt to make it both fun and safe for all involved. Just remember, the point of a trade show is to expand brand awareness. Don't get so caught up in the fun that you forget why you attended in the first place.
Pick a Theme
Choosing a theme provides you with a chance to set a company vibe. It may also make it a little easier to plan out clues and challenges. Providing a creative and memorable theme makes it more likely that booth visitors will remember your product at the end of the show.
As an added benefit, you can begin drawing people's attention before the show even begins. Social media postings may promote your brand and remind viewers of upcoming events.
When selecting a theme for your trade show scavenger hunt, be sure to keep it related to either the show itself or the product/service you are there to promote. If you are a jewelry sales representative attending JCK Las Vegas, you may have a theme focused on Weddings and Engagements.
Set Clear Directions
The point of most games is to have some kind of winner. Be sure to have simple but clear rules on how to win. Depending on the show, there are several possibilities.
Point reward systems based on different activities
Most "items" found within a set period of time
First to complete x number of tasks
Complete a Bingo board of activities
However you choose to run your scavenger hunt, keep it as accessible as possible. Challenges are fun, but being constantly confused isn't.
Provide A Touchless Experience
Be aware that even as social restrictions in general for large gatherings and mask requirements are lessening, it remains a personal choice. There are individuals who still don't feel comfortable with close personal contact or who may not want to pick up random items coming into contact with multiple people.
With a BYOD (Bring Your Own Device) approach, you can have people safely participate through native phone features or accessible mobile apps.
Challenges and clues could include things like:
QR codes posted around the show floor or on trade show booths
Picture submissions of individuals or teams in specific spots or poses
Screenshots of Google searches for a specific keyword
Keyword challenges are also a great way to involve participants who may be attending virtually if such an option is available.
For instance, an organic dairy farm with an exhibit at the World Dairy Expo could have a challenge where participants search google images for 'dairy cow besties' and post a screenshot of their favorite result. (Spoiler: there are some adorable cow pictures out there).
Don't Forget the Prizes
While there may be people who participate in interactive games like scavenger hunts for just the thrill of it - don't rely on it. Remember, this is something you are doing to bring people's attention to your product and brand. The more participants you attract, the better.
From an attendee's perspective, high-quality swag and engaging exhibitors draw attention. Consider these statistics:
52% of people say they are more likely to visit a booth if there are giveaways or other incentives
74% of people say outgoing and engaging representatives make them more likely to buy
How you give out prizes will depend on the structure of your scavenger hunt. The key is to make it something they wouldn't otherwise get by just walking up to the table. If you're already handing out sunglasses or pens - don't make that the prize.
Digital prizes are a good option, especially so that it's easy to reward both in-person and virtual attendees. It might be a special coupon, digital gift cards to specific stores, or cash value gift cards that can be used anywhere.
Let R+L Global Logistics Provide Your Trade Show Shipping Needs
Start enjoying trade shows again and get your brand out there for the world to see how great it is. Don't stress about how to get everything there and choose the right shipping partner instead.
Partner with R+L Global Logistics here at USA Trade Show Shipping to get everything you need delivered securely and on time so you can focus on what you do best.
In addition to the shipping services we can assist with:
Storage
Detention
Drop Trailers
Debris Removal
Give us a call today at (866) 415-8986 to speak with one of our knowledgeable transportation service experts or fill out an informational form online. Start planning for your next trade show and be ready to bring the fun.
Start your engines: It's time for SEMA Show exhibitors to begin preparation for the top trade show for auto equipment in the United States. Every year, SEMA brings the latest in automotive specialty products and technology to a massive gathering of industry leaders in Las Vegas. Because of the staggering foot traffic, it is crucial for exhibitors to know the ins and outs before hitting the trade show floor. 
SEMA Show exhibitors have the opportunity to present cutting-edge auto products to interested auto show buyers. For first-time SEMA show exhibitors, it's important to plan for your appearance at a trade show. Put the pedal to the metal and start brushing up on useful tips for SEMA vendors. You will want to take note on how to attend, who will be there, what you will see, and why you should partake in this hectic event. 
What is the SEMA Show?
The name is short for Specialty Equipment Market Association. The trade show is the country's leading showcase for auto equipment manufacturers to exhibit their newest offerings.
SEMA Show was first held in 1963 and gradually established a reputation as the biggest destination for leading automotive brands to debut hot products and new models. Companies such as Chevrolet, Honda, Toyota, Lexus, Hyundai, and Dodge all take advantage of SEMA's high-spending audience.
Need help shipping your trade show booth and materials? Fill out a short form or give us a call and one of our trade show specialists will answer your questions.
Featured Products at SEMA
Products on display at SEMA are divided into 12 categories
When is the SEMA Show?
The SEMA Show takes place every fall, usually beginning in early November or late October. The event lasts from Tuesday through Friday. The SEMA Show usually takes place in November. 
What is SEMA360?
In 2020, because of the pandemic, the regular SEMA Show as we know it will not be held in Las Vegas as a live event. Welcome to SEMA360, where manufacturer participants can register on Sept. 3 at a cost of $495 for SEMA members and $1,495 for non-members.
Even better, SEMA attendee participation for SEMA 360 is free for SEMA members and only $25 for non-members. Registrations begins in mid-September for attendees.
Get registration info and updates on the virtual SEMA360 trade show today by filling out the simple SEMA360 form.
Where is the SEMA Show?
The SEMA Show takes place at the Las Vegas Convention Center, the biggest expo venue in Nevada and one of the biggest in the country. The convention center is nearly 3.2 million square feet, though SEMA uses just about 1.2 million square feet for its exhibits. 
The Las Vegas Convention Center first opened in 1959, and today hosts 50 conventions per year, including nine of the top 20 trade shows in the country. It's only getting bigger, with a major renovation and expansions underway that will add 600,000 square feet of space. The $860 million project is slated to complete in 2020.
Need help shipping your trade show booth and materials? Fill out a short form or give us a call and one of our trade show specialists will answer your questions.
Who attends SEMA?
Over 2,400 exhibitors attend SEMA in Las Vegas and that number is expected to grow with about 400 additional booths added to the SEMA Show exhibitor list each year.A few of the most anticipated SEMA exhibitors are: 
Chevrolet 

SNAP-ON

Sherwin Williams Automotive Finishes 

Rockford Fosgate 

Harbor Freight Tools 

Ford Collision 

Nissan 

Mopar/Fiat Chrysler Automobiles 

Truck Hero 

Continental Tire

-- Extreme Experience 
The SEMA exhibitor list constantly changes due to last-minute changes or companies opting-out the following year. Stay up to date on the floor plan changes, this will give you visual access to each booth. 
Need help shipping your trade show booth and materials? Fill out a short form or give us a call and one of our trade show specialists will answer your questions.
Why You Should Attend the SEMA Show
SEMA's impact is not just about the number of attendees, exhibitors and visitors - it's about their influence and buying power. Take a look at the numbers for SEMA's attendees. Manufacturers flock to SEMA because of the assurance that the audience at the show will include people in positions of authority for leading brands
162,000 industry professionals

More than 70,000 buyers

87 percent of attendees have some role in the buying process, while 57 percent have the power to make buying decisions
For a first-time SEMA Show vendor, it's useful to learn why buyers attend the trade show. This allows you to cater to their priorities in your booth, offerings, and pitch. SEMA surveyed attendees directly to ask what they hope to get out of the event. 
The response: 
See new products

Get ideas

Keep up on trends

See new vendors

See existing vendors
Who Can Attend the SEMA Show?
SEMA does not permit access to the general public, another reason being a part of this trade show is monumental for companies. The SEMA conference is a trade-only event, meaning attendance is limited to industry professionals. Only qualified and approved individuals who work in the automotive aftermarket industry can enter the convention center.
How to Register for SEMA
To be approved, prospective attendees must fill out a SEMA application and prove their current employment in the specialty-equipment aftermarket industry with the following documents:
Business card

Business license

Recent paycheck stub

Business photo ID
Need help shipping your trade show booth and materials? Fill out a short form or give us a call and one of our trade show specialists will answer your questions.
Are any SEMA Events Open to the Public?
While the main SEMA show is not open to the public, interested hobbyists and consumers aren't totally out of luck. Those who are not employed in the automotive industry are allowed to attend SEMA Ignited, an afterparty where select SEMA Show vehicles and products will be on display. 
Along with customized vehicles, SEMA Ignited will feature food, music, and drift demonstrations. The event takes place on the Friday of SEMA in the Las Vegas Convention Center's platinum lot. General admission tickets for SEMA Ignited cost $20.
Associated Costs for Exhibits at SEMA
The final SEMA booth costs will depend on a wide variety of factors, including costs for staffing, shipping your materials, travel, and lodging, designing your display and branded giveaway items. It's important to evaluate all of these factors and prepare a budget before committing to exhibiting at SEMA.
While many of the costs will vary, the cost of exhibit space is something any vendor will have to calculate. At SEMA, a basic exhibit space costs $36.95 per square or $21.95 per square foot for members of SEMA or TIA (Tire Industry Association). 
Booth vendors must also pay for electrical service, material handling, furniture rental, and carpeting. At the SEMA show, Freeman Services is the official general contractor and provides these services and more for a fee.
Extra Booth Costs
Marketing strategies come with a cost -- an island exhibit booth, one with aisles and access on all four sides, costs an additional $3,990. A peninsula exhibit booth, one with aisles and access no three sides, cost $1,000 extra. To set up your exhibit, you must be fully paid on all money owed to the event and its partners.
Need help shipping your trade show booth and materials? Fill out a short form or give us a call and one of our trade show specialists will answer your questions.
Does SEMA Offer Refunds
If you end up not being able to attend SEMA after reserving an exhibit space, depending on when you make the decision, you may be reimbursed a portion of your costs. The earlier you cancel your booking, the likelier it is that you can recoup some of your investment.
SEMA exhibitors can receive a full refund if they cancel within one day after reserving booth space

After that, a 50% refund is available if a cancellation is made by early August. See exhibitor rules for the exact date.

After the deadline in early August, no refunds are available to canceling exhibitors
SEMA Show Exhibitor Booth Manual
How do you select the perfect booth, especially if you have never been to this trade show before? When it comes to booth space selection, newcomers typically have to go to the back of the line, because this event is so massive.
Members of the Specialty Equipment Market Association or the Tire Industry of America go first, in order of seniority. All members of these organizations select before the rest of the exhibitors, no matter how long the non-members have been showing at SEMA. Non-members then select in order of seniority. A business usually gets a seniority point for every year it has exhibited at SEMA in the past.
What Do SEMA Exhibitors Get with a Booth?
Reserving a space at SEMA gets you more than just square footage. SEMA provides some basic services and items to help exhibitors have a successful experience. Here's what came with a booth rental at the most recent SEMA Show:
Draping - Linear exhibits, the least expensive, get an 8-foot high backdrop drape and 3-foot high side dividers. Peninsula exhibits get an 8-foot drape, but they also permitted to construct a full back wall. Islands exhibits get no drape.

Company identification sign - The sign with your business name is 7 inches by 44 inches. Unavailable for island booths. 

Booth vehicle spotting - This refers to the placement of a vehicle on the trade show floor.

SEMA Industry Awards Banquet ticket - Exhibitors get one ticket per 100 square feet of exhibit space, limit 10 per exhibit. This is available while tickets last, and they must be reserved in advance.

Material handling - Exhibitors with 400 square feet or less of exhibit space receive 500 pounds of material handling.

Inclusion in the SEMA show exhibitor list - All vendors confirmed by an August deadline got a listing in the SEMA exhibitor directory and the SEMA pocket guide. Those confirmed after the deadline were placed in an addendum.

Listing on the online SEMA floor plan - This is available online throughout the year.

Aisle carpet - Be aware, this does not refer to the carpeting in the exhibit booth, which you are required to provide yourself.

Education days seminar - Exhibitors can attend special educational sessions, featuring speakers presenting on a wide variety of relevant topics.
The trade show also offers a SEMA checklist to help vendors confirm they have indeed taken all of the necessary steps prior to showtime. Included in the list is the time frame all of the above materials should be ordered by. 
Need help shipping your trade show booth and materials? Fill out a short form or give us a call and one of our trade show specialists will answer your questions.
What Are the Booth Restrictions at SEMA?
SEMA has no shortage of rules limiting your exhibit on the trade show floor. With such a massive, bustling event, organizers hope to keep things as orderly and appropriate as possible.
If you're exhibiting at SEMA, be sure to read the show rules and display regulations to make sure your booth meets all of the standards. 
Here are a few of the most important rules to follow when exhibiting at the SEMA show:
Fireworks and weapons: All fireworks, weapons, explosives, and firearms are prohibited at SEMA.

Objectionable material: SEMA requires "good taste" for all music and entertainment displayed at your booth. This means no inflammatory, sexually explicit, sexist, gang-related or violent material. It may also not defame women, law enforcement or authorities.

Dancing and modeling: "Lewd or sexually suggestive poses or actions" are prohibited for dancers and models at your booth.

Food and drink: Any food and drink at your booth must be coordinated with the official caterer. Food preparation at the booth is not allowed. Written approval from SEMA is necessary to serve alcoholic beverages or any outside food and drink.

Noise: Exhibitors must keep the volume below 85 decibels at their booths, and must follow any requests from management to turn down music volume or noise level. After two warnings, management can turn off your volume. After three, management can force you to leave.

Videotaping: You may not photograph, videotape or broadcast any part of SEMA for commercial use or distribution without written approval from the show.
How to Rent a Booth for the SEMA Show
If you're exhibiting at SEMA for the first time, you probably shouldn't purchase everything you need for your booth. Renting booth materials allow you to stock up your booth for less. After all, you want to see what works best before you commit to spending the big bucks. 
You can rent items from plenty of websites and Freeman Furnishing. These are a few of the most-requested rental items, according to the SEMA show exhibitor manual:
Carpeting: SEMA requires that your exhibit have carpeting.

Chairs: It's always useful to be able to offer visitors a place to sit at your exhibit.

Table: A 6-foot table, skirted on three sides, is standard for booth displays.

Wastebasket: Even if you don't expect to have much waste, it's good to have a trash can on hand.

Badge scanner: Renting a lead retrieval system such as a badge scanner can make your experience much easier by seamlessly keeping track of the contact information of your visitors.
At the most recent SEMA Show, a basic booth rental package for a 10x10 foot space from Freeman Furnishing ran $397.30. However, stocking your exhibit with higher-end furnishings can run much more. Be sure to account for these costs in your budget.
Need help shipping your trade show booth and materials? Fill out a short form or give us a call and one of our trade show specialists will answer your questions.
Dress Code for SEMA 
SEMA exhibitors need to balance competing goals when it comes to attire. You want to look professional, but also stay comfortable. SEMA recommends business or business casual attire.
Generally, it's a good idea to have those working your booth to wear a coordinating color that represents your company's branding. Comfortable shoes are a must for all exhibitors - between standing for hours at a booth, roaming the trade show floor and meeting with clients, you don't want to be distracted by aching feet.
The show has limits on attire that seemed aimed at curbing the use of "booth babes" - i.e., attractive models meant to draw leering men to an exhibit. This once common practice has fallen out of favor and tends to attract negative press. SEMA does not permit exhibitors to wear bathing suits, thongs, lingerie, excessively short skirts, painted bodies or transparent apparel.
Don't take that list as gospel, though. 
SEMA's management has final say on whether an outfit is acceptable. If you're wondering if a particular outfit breaks the rules, ask the show's management before the event begins.
When is Move-In at SEMA?
One of the most tasking parts of exhibiting at SEMA is making sure your materials arrive at the Las Vegas Convention Center safely and on time. It's essential for SEMA vendors to know when to load their materials into the venue.
Move-in at SEMA takes place over the course of the five days leading up to the start of the trade show. Exhibitors are assigned freight arrival times to begin moving in booth materials and setting up. Move-in times start at 7 a.m. each day and go into the evening. If you miss your assigned time, you may be issued a late fee.
Parking Information for SEMA
Don't count on waltzing over to the Las Vegas Convention Center right before showtime and expecting to find a parking space. In fact, you shouldn't expect to park at the venue at all. With more than 100,000 people descending upon the event, spaces will most assuredly be scarce. Whenever possible, seek out alternative methods such as shuttles, taxi cabs, Uber and Lyft, or the Las Vegas Monorail.
For those who do decide to brave the parking lot, parking at the most recent SEMA cost $10 per day for regular vehicles. Vehicles that require more than one parking space will cost more. Re-entry is allowed - as long as space allows. Overnight parking is forbidden and SEMA will have any vehicles left on the premises towed.
Need help shipping your trade show booth and materials? Fill out a short form or give us a call and one of our trade show specialists will answer your questions.
SEMA Show Phone Application
The SEMA Show is really many events under one name, between the educational sessions, networking opportunities, keynote addresses and thousands of exhibitors, keeping track of everything you want to see and do at SEMA can be a challenge. Thankfully, the trade show has introduced a handy smartphone app that makes the process easier.
Take a look at the features the SEMA application offers to attendees and exhibitors at the expo, including:
Directory of exhibitors, searchable by name, category, and location

Map of the SEMA trade show floor plan, important to locate vendors. 

Catalog of seminars, conferences, speakers, celebrity appearances and other events, with details including time and location

Feeds of the official SEMA Show social media accounts all in one app

"Locate Me" feature that tells users the quickest route from Point A to Point B

New Products Showcase featured, with detailed information and photos

Scanner for the New Products Showcase, allowing users to easily compile a list of the items that interest them
Trade Show Marketing Ideas - Social Media 
Social media is not just a great way to stay up to date on the latest SEMA news. It's also an effective marketing strategy, allowing you to build awareness of your SEMA appearance and engage with other companies and prospective clients.
Before the show, social media can be a great way to see if potential customers are gearing up for SEMA. Search  #SEMA, and check the comments on posts from the official SEMA social media accounts on Twitter, Instagram and Facebook to find interested companies and buyers. Don't be afraid to use your company's accounts to chime in, share posts, and interact to establish your presence -- people respond to companies who use voice and personality on social media.
During the show, share photos of your exhibit, team, and products on social media, making sure to use the appropriate hashtags. It doesn't hurt to tag companies who you hope to engage with. Showing off an eye-catching booth with a spirited team can draw new visitors to your exhibit.
Showing off your SEMA presence can be a strategy for even after the event has concluded, bringing potential clients to your website. Especially since it's a closed trade show, potential consumers know exhibiting at SEMA Shows means you're a serious player in the automotive industry.
Need help shipping your trade show booth and materials? Fill out a short form or give us a call and one of our trade show specialists will answer your questions.
The Trade Show Floor Plan at SEMA
At 1.2 million square feet, the sprawling SEMA show floor plan is enough to make anyone's head spin. Make sure you take a look at a map of the SEMA floor plan to familiarize yourself with the layout before the expo. This will allow you to plan how to make the most efficient use of your time when putting together a schedule for your SEMA experience.
Generally, the show floor is arranged by product category, plus special showcases for featured and first-time exhibitors. 
At the most recent show, this was the floor plan at the SEMA Show:
Westgate & North Hall: First time and featured exhibitors; restyling and car care accessories; mobile electronics and technology; collision repair and refinish; tools and equipment.

Central Hall: Racing and performance; Hot Rod Alley; restoration marketplace; first-time and featured exhibitors.

South Hall Upper: Trucks, SUVs and off-road; Powersports and utility vehicles; business services; first-time and featured exhibitors.

South Hall Lower: Global Tire Expo; wheels and accessories

Performance Pavilion: First-time & featured exhibitors

Platinum Lot: SEMA Ignited, the open-to-the-public showcase of featured SEMA products
SEMA's online floor plan lets you explore the venue down to each individual exhibitor. Search by exhibitor or product category to find the type of vendors you're looking for. With SEMA's planner service, you can mark down and save vendors. The online floorplan will let you plan ahead, while the SEMA mobile app, the pocket guide, show directory, and printed map will help you successfully get around as the event is going on.
Make a Schedule for SEMA
Preparing for this event far in advance is key to having a successful booth, creating a schedule will help guide your experience making the most of the varied lineup of events, speakers, demonstrations, and exhibits. Months prior to the show, sign up for SEMA Show exhibitor summits to get even more tips on navigating this process. 
In advance of the show, identify the events, educational sessions, and keynotes that are relevant to your business goals and priorities. Set aside specific times to visit different parts of the show floor, if you don't lay this out, it's easy to get overwhelmed. Every morning of the expo, event organizers will also post on the show's website, recapping the previous day's events and outlining highlights for the current day. You can use these to get a sense of the most prominent features each day.
Allocate specific periods for meeting with prospective clients, and don't forget to allow time for lunch, coffee, hydration, and other breaks. It's important to pace yourself after investing so much time and money in attending the show, you don't want to be worn out on the first day. 
The schedule doesn't have to be set in stone. It's fine to diverge from the itinerary when other opportunities arise or different parts of the show catch your eye. Rather, treat the schedule as an outline that will keep you focused on what you hope to get out of the show.
Need help shipping your trade show booth and materials? Fill out a short form or give us a call and one of our trade show specialists will answer your questions.
Networking Tips at SEMA
At an event packed with industry leaders from top brands, it's important to be proactive about getting your name out there. You'll rarely have a better opportunity to meet so many professionals in your field, so make the most of the opportunity. It's tough to go far in business without making connections.
Make sure you're stocked up on business cards, you don't want to be empty-handed when you encounter the perfect potential business partner. If your booth does better than expected, there's a business center near the Grand Lobby with printers available for use.
Don't stop networking once the event ends - be sure to follow up with any connections with whom you hope to partner. Send your follow up message within a few days of SEMA's close so that you're still fresh in their mind.
Educate Yourself at SEMA
Don't underestimate the value of the educational sessions at SEMA. It's easy to get swept up in pitching to prospective clients, exploring the trade show floor, seeing new products, at networking with other industry professionals. Remember, the collective industry knowledge gathered at this major event can be a huge resource for your company's long-term goals. It's important to keep up with innovative new trends and strategies that can help your business grow.
With more than 70 educational seminars and speakers on the schedule, SEMA has a session for all sectors within the automotive products industry. Here are just a few of the subjects you can learn about at SEMA:
Need help shipping your trade show booth and materials? Fill out a short form or give us a call and one of our trade show specialists will answer your questions.
Guest Speakers at SEMA 
Every year, exhibitors request celebrity guests with ties to the automotive industry to lend their names and faces, including car racers, TV personalities, athletes, musicians, artists and more. Past VIP's:
Jay Leno, former "Tonight Show" host

Hacksaw Jim Duggan, WWE Hall of Famer

Richard Petty

, NASCAR Hall of Famer

Jeffrey Earnhardt, NASCAR driver, and grandson of Hall of Famer Dale Earnhardt

Gray Maynard, MMA fighter known as "The Bully"

Leah Pritchett, record-setting drag racer

Rutledge Wood, the former host of "Top Gear" (U.S. Version)

Mario Andretti, legendary NASCAR, Indy, Formula One racer

ZZ Ward, blues rocker

Stacey David, TV host of "GearZ"
This part of the trade show allows vendors to relax from the high-intensity stress levels and enjoy themselves. While these speakers can be a calming break, they can still be an informative asset for business techniques. If your business has the clout and budget to host a star at your exhibit, it could be a worthwhile addition to the booth.
Shipping Your Materials to SEMA
For first-time shipping to SEMA exhibitors, the last thing you want to worry about is your booth materials arriving at the trade show securely and at the right time. You have enough on your plate already. It's best to leave it to the pros to take care of shipping your materials.
While the official show contractor, Freeman, takes care of receiving your shipment and setting up your booth at the site, a logistics company can take care of the process leading up to that point. R+L Global Logistics' trade show shipping team has the experience and expertise necessary to get your shipment to SEMA without a hitch.
You can go about shipping your materials in one of two ways. In direct to site trade show booth shipping, your materials are sent straight to the SEMA site at the Las Vegas Convention Center during the designated move-in window in the days leading up to show. Or, you can go with advance warehouse shipping, where the materials are sent well ahead of time to a warehouse run by Freeman, who will then deliver your materials to the site.
SEMA Show exhibitors induce painstaking stress during the weeks leading up to this event. The last thing on your mind should be worrying over whether your materials made it on time and in good shape. Get the peace of mind of a professional shipping and logistics company by contacting an R+L Global representative today. We also offer shipping to IAAPA trade show needs and provide services for many other trade shows nationwide. Use the chat or call (866) 415-8986 to get in touch with us today!
Attending conferences is always an exciting time for those looking to learn new information and network with industry leaders. Many organizations are looking for effective ways of how to plan a virtual conference where attendees get the most out of the experience. There's a lot of ground to cover in the virtual environment. The details of planning a virtual conference can be as overwhelming as if an on-site venue. There are a lot of moving pieces when it comes to bringing any group of people together for a conference, trade show, expo or convention of any size. So while hosting these events virtually may be a different format, the overall logistics is top priority to ensure success.
Think of the virtual space just as you would the on-site venue when you are figuring out how to plan a virtual conference. Where will everything and everyone go? How to make the venue user-friendly for everyone? Is there enough time to get everything done virtually?
As technology advances and new platforms hit the market at the blink of an eye, there are a lot of options available for how to plan a virtual conference. In many instances, this is unchartered territory depending on the industry which means planning is key to the overall success. Take a few minutes to review this guide and obtain some great tips on how to plan a virtual conference.
Need help shipping your trade show booth and materials? Fill out a short form or give us a call and one of our trade show specialists will answer your questions.
The Task of How to Plan a Virtual Conference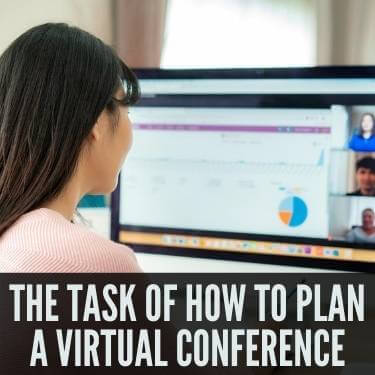 Does it feel like you drew the short stick and now need to figure out how to bring all this together for a conference? Well, you don't have any time to waste before the trade show goes live.
These are tough questions that must be addressed above or there will be problems along the way. The virtual aspect provides a few challenges but also offers a lot of advantages that can be maximized. The only thing that will really change is being face-to-face over the course of the conference. Everything else about an event of this size remains constant so let's get to work.
Virtual Conference Planning Checklist
Technology makes virtual conferences possible in a variety of platforms. However, there may be a learning curve for attendees and exhibitors if the platform is not familiar to all. Therefore, the technology divide will have to be factored into planning an exhibition since it will greatly impact every facet of the event.
So let's begin with the checklist to get planning underway.
1. Select the virtual format
Thanks to technology, there are a ton of available formats to host a virtual event. Select which one will work best for the amount of people attending. Popular platforms like Zoom may work well while exhibitors may find Virtual Expo/Vendor Village as a way to engage with conference goers.
2. Select the date of the conference
While in-person conventions may have lasted up to a week, a virtual event may be hosted for a couple of hours or spread out over a few days depending on the timeline. However, it's important to select an actual date early so attendees can adjust their schedule and block out the time.
3. Share convention speakers and exhibitors
Just like with anything where there's a choice, attendees want to know if it will be worth their time to log on or hear a speaker or chat with an exhibitor.
4. Share information early and often
Things look different in the virtual world when it comes to engagement. Event planners will want to share the virtual platform, date and speakers early and often to help build excitement but also to give everyone time to register.
5. Post the convention agenda
Similar to on-site conventions, attendees want to review the agenda to ensure they are maximizing their time. Posting the convention agenda gives everyone a chance to prioritize sessions and streamline networking opportunities.
6. Prepare for questions
A virtual conference will likely come with a lot of questions ahead of time, during the event and after it closes. Face it, people want to know who they can talk to if something happens. Event planners need to make sure enough people are on hand to address questions.
7. Provide a pre-expo testing session
So what is a testing session? Basically it is a session where upcoming attendees and exhibitors and speakers can test out the event platform to see how everything will work. There's nothing worse than to be ready to sign on virtually and something goes wrong and you miss the information. Or worse, you are scheduled to present and there is a glitch in the system. A testing session will give everyone time to make sure they are ready to go.
8. Get creative with swag
Who does not like to get something free at a convention like a shiny new coffee mug, great writing pens, a nice portfolio or even T-shirts and the list goes one. In a virtual environment, these may not be practical. So here is an opportunity for event planners to find fun, creative ways to up the swag game. How about links to free consulting sessions, receive a box of gear or any number of other ideas. The sky is the limit virtually.
9. Incentivize early registration
This may be a good idea for those looking to have additional folks participate in the event where in the past budgets only allowed for one person to attend. So why not give slight discounts to those who register before a certain date, or an organization has five or more people participating. It's just one more way to increase engagement of the virtual conference.
10. Share. Share. Share.
Again, make sure to share information early that the conference will be virtual. Veteran attendees and exhibitors will have to shift a lot of their preparation logistics so make sure they have plenty of time to get this done without financial penalties.
This is just a beginning checklist to help get things started in planning a virtual conference. Remember, going virtual is a big shift so be prepared for something to pop up at the last minute.
Need help shipping your trade show booth and materials? Fill out a short form or give us a call and one of our trade show specialists will answer your questions.
Virtual Event Planning Timeline
In planning a virtual conference, the timeline to get everything in place will depend on several factors. One thing a virtual event does not have to compete with on a large scale is date availability at a venue. So if there is a timeframe that may work better, go ahead and put it on the calendar.
The event planning timeline will be established when the date of the conference is publicized. It may be a few weeks to several months or longer to plan an event. The promotion of the event typically begins early in the process while the other details are finalized.
One of the biggest decisions to be made will be determining which platform to utilize and the level of functionality. It may take some extra time to figure out which option is best. The team working to plan the event will need to discuss a variety of other details to ensure a smooth transition with moving the expo online.
When it comes to planning a virtual conference, the matter of time is a huge element in the overall event. People attend conventions from all over the country and in many cases from around the globe. The designated times of conference events may need to take the time difference of attendees into account. If it's mostly a domestic audience, consider beginning the conference day at 10 a.m. CST so it's not too early for those on the West Coast and equally not too late on the East Coast.
So in planning the timeline of the virtual event, build in some flexibility for conference goers to pop in and out as needed based on their schedule. It will ease the stress of not being in person and help promote overall engagement.
Digital Tools & Technology
Perhaps the single most important aspect of how to plan a virtual conference centers around the digital tools and technology utilized to convey messages and connect everyone. It may start with the check-in process to gain access to the conference information sessions, keynote speakers, and the networking opportunities that many find invaluable.
While the event may be considered virtual, some aspects such as product displays that have to be set as if on-site and a live demonstration presented. In this case, additional equipment may be required to pull this off. The ability to bring all this together and bridge the distance can be a huge success because of technology.
Shipping equipment like cameras, lighting and other easy to use digital tools are critical in this process for those who will be presenters and exhibitors. So while exhibitors may not be in a booth space in the exhibit hall, they may still use technology to have a virtual booth to highlight products and services.
The behind the scene details of a virtual conference vary but the digital tools can enhance the experience beyond expectations. The right technology can add pizazz and flair to a presentation and keep attendees glued to their devices.
A lot of planning and organization must be in place to make a virtual conference seamless to attendees. While some miss packing up gear to have shipped to a venue, the travel involved and the set up and breakdown time; for others a virtual expo reduces that time and leaves more time for engaging potential buyers and following up on leads. So yes, some like the face-to-face approach that a traditional on-site event provides, however making the change to a virtual environment could open many other opportunities.
Virtual Conference Networking
One of the fringe benefits of attending a convention of any category is networking with other industry leaders and decision makers for their company. The time on the trade show floor along with mingling between sessions can net valuable connections. The objective of course is to locate buyers for products and services. So exhibitors must think outside the box for ways to engage conference goers in a virtual setting.
Technology will allow exhibitors to make product demonstrations, answer questions and have one-on-one dialogue with attendees. It might be innovative to establish individual sessions for each exhibitor to conduct a variety of activities over a two or three-day period.
The schedule could look like this:
11 a.m. – Exhibitor product demonstration with time reserved for question and answers
1:30 p.m. – Networking session with exhibitors (general questions)
4 p.m. – Schedule one-on-one time discussion with exhibitors (30 minute sessions)
7 p.m. – Networking session with exhibitors (general questions)
First, the exhibitor can be flexible about the sessions and can offer any type of incentive. Everyone likes to get a little treat in exchange of their time and interest. The main goal is to get folks to connect virtually and have those leads turn into closed deals. The challenge for event hosts is how to plan a virtual conference and make activities like this work well for all involved.
It's a good idea to talk to exhibitors well in advance to learn what may be most useful for them to connect virtually. Some exhibitors may expand their manpower and have additional staff on hand to help field the audience. Others may relish the one-on-one discussion sessions which helps them sort out the curious in order to reach the serious.
How all of this occurs will likely be different for each exhibitor just like their traditional expo booths may be the same size dimensions but the visuals are different. Attendees may want to gravitate to the general sessions so they can compare things before deciding to sign-up for a one-on-one time slot with a vendor. Again, with planning a virtual conference flexibility is key across the board.
Need help shipping your trade show booth and materials? Fill out a short form or give us a call and one of our trade show specialists will answer your questions.
Virtual Trade Show Benefits
Some may be wondering what's the big deal of planning a virtual conference, especially if they looked forward to the in-person events at venues around the country. One benefit may be the travel cost savings associated with on-site convention. Just that number alone can make a virtual conference more attractive. However, there is a list of other benefits to be realized by going virtual.
1. Eliminate the crowds
Even if it's a convention of a few hundred people, it can still seem crowded and unable to get close to the vendors or industry leaders you seek. A virtual conference eliminates the rush of everyone trying to get to the same place and allows for a relaxed atmosphere.
2. Get a great seat
The early bird gets the good seat. But sometimes this can be difficult if fighting crowds in a large convention center. However, attending a virtual conference means you can sit anywhere you like with access to your device. Lounge in your man-cave or she-shed, tune in from your office or where ever you deem is a great seat.
3. Execute networking plan
Often during large expos, it's difficult at best to have a brief exchange with an industry leader or a vendor. In the virtual world, conference goers can snag times in various sessions that will allow them to ask questions of who they want and have a more dedicated exchange. This time will be valuable to those who want to maximize technology. This is a priceless benefit that will pay off in dividends.
4. Save valuable time
While the travel time is eliminated with a virtual convention, so is the time of getting acclimated to the on-site venue and getting where you need to be on time. The benefit of a virtual conference is that by clicking a link attendees arrive in the right place and not wandering around trying to locate a vendor's booth or a meeting room. It's a simplified experience that makes an impact.
5. Obtain answers to questions
Since the event is virtual, attendees can send a question via a chat function to a presenter, or even have a real-time dialogue during a vendor session or individual session. It's almost like being there in person, but better.
Virtual Conference Vendors
In taking on the task of planning a virtual conference, vendors have a blank canvas for a booth online. In adjusting to a virtual venue, conference vendors should utilize a variety of tools to engage convention goers. Just because you are not in person does not mean scale back on planned activities at the booth. Find a way to be more purposeful in sessions with those looking for product demonstrations and asking questions.
Sure, set up that booth in a company warehouse or other location so it feels a bit normal for the representative. Have good camera angles to capture all the bells and whistles and to see the product up close. Also make reading material available on services and other product highlights so those interested have something to refer to, consider and ask questions.
Just because you are not in person does not mean you can't still hand out great swag. You may have to follow up with obtaining shipping information to get gear distributed to lucky winners. It may not be feasible to send everyone a writing pen. But if you put together a couple of swag bags with several trade show giveaway items that may be received and easier to send out.
The big thing for vendors is to be available in the virtual space so attendees can connect with you. It's disappointing to look forward to speaking to a vendor and they are not available for a session. So shift a bit, adjust the camera and be ready to chat with those attending the conference. It's a good way to get a step ahead of the competition.
Need help shipping your trade show booth and materials? Fill out a short form or give us a call and one of our trade show specialists will answer your questions.
Create a Virtual Conference Agenda
As with traditional conferences hosted in person, a printed agenda or one accessible in the event app, helps keep things moving smoothly. The same will be true for an online convention. Early in the planning process, event organizers should create a virtual conference agenda to outline the entire convention. While many may question why since the event will be virtual; that is the exact reason because it will be virtual.
While technology has connected groups of people like never before, in many regards virtual conventions are new on the scene. The challenge will be to get the buy in support early and overcome the learning curve.
By creating a virtual conference agenda, everyone who registers will have access to map out their individual itinerary and know just what to expect. In addition to setting the tone of the event, the agenda allows attendees to branch out beyond their comfort zones. In having a virtual conference agenda, it helps unite everyone planning to attend and provides other key details to login to hear other speakers and make other connections.
In some cases, a traditional convention has several challenges that prevents attendees from doing all they would like in the timeframe of the event. By having an agenda, the attendee can navigate the virtual conference better. There may also be an opportunity to have other colleagues register to obtain useful information for the organization. So where in the past, the company's budget may allow only one or two members to attend, a virtual event will likely be less expensive making it possible for others to attend.
So in creating a virtual conference agenda, it helps in the overall planning for all involved. The overall focus of a virtual conference is to bring people together while not at an on-site venue. So every aspect of the virtual connection should be used to make sure everyone is on the same page.
Virtual Conference Best Practices
The mention of a virtual conference may for some be a welcomed change because it means they can login from anywhere. However, while a virtual conference may denote a more casual atmosphere for attendees, there are a few things to be mindful of prior to logging in, during the event and once adjourned.
1. Remember you are logged in to a virtual conference
Be sure to mute yourself when not speaking during a session. You don't want to be embarrassed by what others may hear in the background. Sometimes even the slightest background or environment noise is pickup by a sensitive microphone. Take a few moments before the conference begins to find a good location free of noise and interruptions.
2. Eliminate Distractions
If you are distracted during a session it will show up on the camera for others to see. Now is not the time to conduct another meeting, have an ongoing phone call or any number of things. The conference should be a dedicated time to immerse yourself in new information and network. Be attentive. If you are able to set a one-one-one or small group discussion with a vendor or speaker, give them your full attention.
3. What You Should Wear
Listen, this is not the time to wear your favorite T-shirt that has seen better days. While you don't have to wear a full suit and tie, at least put on a nice top or polo to still appear business casual. Remember since the event is virtual, everyone will be paying attention to little details like attire.
4. Speak Clearly and Listen Carefully
Be mindful that not all internet speeds are the same. So while you may have a fast, high speed network, others may not be as fortunate and struggling to keep up. During a presentation or even during a general question and answer segment, try to speak in a moderate tone and speed so you are not garbled or something is missed if waiting for network speed to catch up. And in the reverse, once an answer is being given, listen carefully. The person is taking time to address a question, be respectful enough to listen to what they have to say.
5. Technical Problems Happen
During the virtual conference, there is bound to be some technical difficulties somewhere in the connection. It's par the course when dealing with technology. It's a good rule of thumb to have patience while the situation is resolved either on your end or with the event organizers.
Virtual Conference Software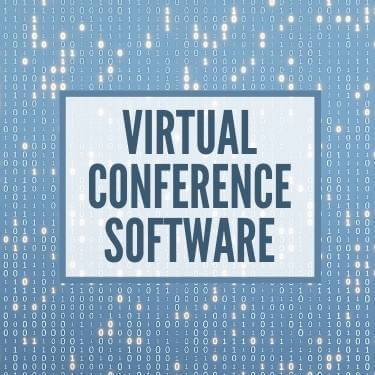 As more and more organizations turn to virtual conferences in lieu of on-site events, the planning committee will need to find the right software that works best for the masses. A word of advice here, there are a number of software products that can be used to integrate various aspects of the convention from registration to networking.
However, it will depend on what each group will need to accomplish when deciding on a software suite which is also determined by budget. If there is time, conduct test sessions with several different software options versus just finding what everyone else is using. Not all software works the same for every setting. One program may work best for keynote presentations for large attendance availability, however, it may not perform well during a one-on-one session. These will be things that have to be worked out before the information is distributed to conference goers.
Although there are software options that are in wide use like Zoom, there are others like Hubb or Pathable that are gaining traction as more groups take events virtual. If time allows, explore other options to discover the functionality and ask questions. And be prepared there will be somewhat of a learning curve among those who will use the software during the conference so be prepared for lots and lots of questions from everyone. Consider creating a dedicated team for the convention to just answer technical questions as they interact with the software.
Need help shipping your trade show booth and materials? Fill out a short form or give us a call and one of our trade show specialists will answer your questions.
Time to Hit the Virtual Trade Show Floor
Once all the planning and promotion is done, it will be time to open the convention including the virtual trade show floor. Conference goers will adapt to the new environment and find their way around.
The biggest thing will be that everyone is connected in the same space to share the latest information, preview advancement in products or a host of other activities. The virtual trade show can be just as interactive as in person, it will require planning some engaging presentations beyond the normal PowerPoint presentations. It's time to take it up several notches on the virtual trade show floor.
Exhibitors still have a big job ahead of them to make the trade show floor effective for them and the convention goer. So when attendees enter the virtual trade show booth, be ready to greet them enthusiastically and give them a tour. It may be a longtime conference attendee who has had to make the adjustment to the virtual trade show or it could be someone new to the event in either format but tech-savvy to navigating the virtual environment.
The virtual trade show floor will be void of the normal hustle and bustle typically associated with on-site venues. So this is where exhibitors will need to make sure their trade show booth bridges the distance to draw folks in. The goal, whether in person or virtually is the same, is for attendees to walk away with information that could translate into a sales lead.
Planning a Virtual Conference with R+L Global Logistics Trade Show Experts
All the details are in place and the countdown has begun for the virtual conference going live for all to enter. Whether it's equipment that needs to be shipped to convention presenters or trade show booths that have to be set up in a warehouse space to do product demonstrations or more, R+L Global Logistics is flexible to get everything delivered.
R+L Global Logistics has the ability to handle product and material distribution to virtual conference attendees. It's just one example of how we handle the logistics associated with trade shows. In addition, our team offers a full array of supply chain logistics including pick and pack along with fulfillment services.
Our team is well versed in dealing with short deadlines and can offer expedited service to meet the need of shifting to a virtual environment. R+L Global Logistics has a 99.5 percent delivery rate so shippers can rest assured their trade show freight is handled by professionals.
By working with a trusted team of carriers, R+L Global Logistics delivers trade show freight from coast to coast. Excellent customer service is our trademark and shippers have access to track freight each mile of the journey. Delegate the shipping aspect of planning a virtual conference to R+L Global Logistics. Call (866) 415-8986 to obtain a free quote and ask questions. 
With so many different conferences one can attend, it's not an easy task to really laser focus on the ones that will give you or your business the most value for your time. In these uncertain times, it becomes all the more important to not invest resources into a conference — likely virtual at this point — that doesn't meet this simple objective. Yet, it leaves a crucial question unanswered: how do you know which of the virtual conferences is the right one to pick?
Luckily, for those looking for virtual conferences in 2020, there are no shortage of quality options. While the way they're run and attended have certainly changed, quality networking and exchange of information can still occur. Whether presenting or attending, the subsequent bump in the status of your enterprise can be well worth it.
There is a lot to cover on the many facets that go into putting on or attending a virtual conference. So read on to get a better grasp of what to expect and the best conferences for the rest of 2020.
Need help shipping your trade show booth and materials? Fill out a short form or give us a call and one of our trade show specialists will answer your questions.
The Benefits of Attending Virtual Conferences
When a huge conference like the Consumer Electronics Show (CES) — annually hosted in Las Vegas for over 180,000 attendees — has already announced it will be held virtually starting in 2021, it's not hard to see that virtual conferences will be a part of the future for an indeterminable amount of time.
One of the biggest and most important aspects of attending a virtual conference is the opportunity to learn more about how to navigate your specific business world. While there are certain tenets of being professionally successful across the board, it wouldn't make much sense to attend a virtual conference wildly outside of what you're looking for. For instance, if you're in the medical field, you very well might get little to no benefit from a professional standpoint to log online to participate in a conference about the hospitality industry.
While it won't be the same as attending an in-person conference, you can still meet like-minded professionals in your trade to network with. Conversely, you may also connect with a person or people who have new or different ideas than yours that you can incorporate into how you run your business or department.
Other factors for benefitting from being in a virtual conference are finding out what your competitors are doing and finding ways to innovate or adapt how you approach things based on that. Being more creative to adapt to a virtual conference will only help once things move back to physical locations, especially in putting on a successful exhibition.
Another obvious benefit is keeping yourself as risk-free as possible during the COVID-19 pandemic. Attending a virtual conference from the comfort of your office or home might feel weird or different at first, especially for those who've frequented in-person conferences. However, further eliminating another source where you can transmit or contract coronavirus hopefully puts your mind at ease.
What Virtual Conferences Should I Attend?
Even in these virtual times, there are still plenty of conferences to choose from and they all have different positives and negatives associated with them. It is not a limitless amount of events, but it can sure feel like that when attempting to sort through them all.
You should pick a conference or multiple conferences that will give you the most value for your time and money.
Narrowing down your search even further, figure out which ones the best in your particular industry are. As an example, if you were in a field that dealt with consumer electronics, then CES is one you'd definitely want to attend. It is large, has something for everyone in the field, is long-running, has keynote speakers that are among the giants in their industry and leave plenty of time and people to network.
Basically, you're looking for highly-rated conferences that are well-regarded in your particular industry or general business-focused conferences that might not touch on a specific industry but help you communicate in or understand the business world better.
As you read on, we will list the best remaining conferences you can attend in 2020 broken down by category. As you will see, there is literally something for everyone.
Need help shipping your trade show booth and materials? Fill out a short form or give us a call and one of our trade show specialists will answer your questions.
Advantages of a Virtual Conference
The most apparent initial advantage to attend or host a virtual conference should be the reduced cost. Compared to a physical conference, there are no lodging or transportation costs for attendees of a virtual conference. With the need for just an internet connection and the base cost of the conference, it becomes a much easier decision for a business to allow employees to participate or an individual on the fence about attending to make the choice to partake.
A virtual conference in general is also easier to attend from a crowd perspective. Mentioned earlier, CES has nearly 200,000 attendees. Even though Las Vegas can handle that amount of people, it's still a nightmare from a conference goer's perspective since it can be difficult to find a hotel near the venue, or an Uber during busy times when everyone else is active. That's not even accounting for the fact that an absolutely enormous place to host the conference can be a huge challenge to navigate.
Meanwhile, a virtual conference allows you to be in any space you want from the comfort of your home or office and allows you to log in just minutes prior to a keynote speaker presenting. You still receive high quality interactions where you can continue learning or sharing ideas. For the entity hosting the conference, that also means being able to more easily measure data from a virtual conference and having a more gentle impact on the environment.
Challenges of a Virtual Conference
While virtual conferences can be outstanding experiences and a necessity in the current landscape, there are still some challenges in several areas that will have to be addressed or navigated in order for you to be able to offer or receive the most out of them.
Networking is one of the biggest selling points for going to a huge conference or trade show. There won't be those dedicated happy hours to mingle with people or other in person events that some people completely thrive in. While it could be easier in some regards to get 1-on-1 face time with a person you'd like to interact with, there is some of that personal touch lost in translation over a computer or smartphone.
Another important selling point, both for demonstrators and attendees at a conference, is being able to get products or even swag (complimentary items for attendees that are branded) in front of those present. With this type of virtual event, you'll be forced to get creative.
For product demonstrations, you can always broadcast them over the internet. While it might not replicate conference-goers being able to touch and see the items in person, it is still much better than not getting the products in front of people at all. On the other hand, you can still send swag or product samples directly to anyone enrolled in the online conferences, either to their place of business or directly to their homes. While this presents additional planning and careful coordination, it could turn into a benefit if done correctly.
Need help shipping your trade show booth and materials? Fill out a short form or give us a call and one of our trade show specialists will answer your questions.
What Do Top Virtual Conferences Have In Common?
While the theme or subjects differ, there are some common threads that the best virtual conferences all share:
Keynote speakers: The biggest and most well-regarded conference, virtual or otherwise, are able to convince experts of the particular industry to keep an audience in a world full of distractions enthralled by being both interesting and informative. If that person is also either famous in his or her own right, or works for a notable company, that will also attract people.
Motivated guests: The conference is only going to be as good as the people attending it. Holding a virtual conference might not have the "in-person" component everyone is used to, but there might be even more networking and exchanging of ideas going on than usual. A big selling point of a lot of attendees is being able to socially share new ideas, make contacts and possibly even stay in touch long after the conference is over. So while you want to engage an attendee, you also want to have an engaging attendee at your conference.
Singular focus: So while it's nice to have an excuse to get a bunch of like-minded professionals together to share info about a product you sell or exchange ideas, there should still be a goal, purpose or focus for undergoing the huge process of putting on such an event. It could be something as simple as "Innovation" or something more specific like "Selling In A Digital Era". Regardless of what the focus is, make sure it is laser-focused and able to be communicated in a clear, concise manner.
Networking abilities: While this one was touched upon briefly under motivated guests, no one wants to attend a physical or virtual conference and just listen to speakers talk for days on end. Make it easy for attendees to have time and interaction with one another. Having smaller breakout sessions during virtual meetings can help in that regard. Some conferences provide a free smartphone app for physical conferences and have continued the practice for their virtual counterparts. This is a great way to allow conference-goers to communicate with each other directly.
Value for time and money: People have a finite amount of time, so you have to make your conference worth their while. Having great information, engagement and focus is one part of that equation. The other is the cost. Nearly every conference that has moved from a physical to virtual format should be overall cheaper because attendees (or their companies) don't have to pay for flights and hotel rooms.
Still the base cost of admission to attend a conference can vary wildly, from completely free to thousands of dollars. No matter how much you charge, your job as the person providing the event is to convince people what they are receiving from you is worth their effort to attend.
Ideas to Enhance Virtual Conferences
There will be some thinking outside the box required but there are ways you can make a successful virtual conference feel a bit more like its physical counterpart.
Many conferences offer food and beverages to the people who attend. While you can't exactly do that virtually, you might be able to approximate that idea by sending through email a gift card that can be used for lunch by the conference-goers. This can help keep attendees from disengaging.
Another aspect to look at is the duration of each session. It's important to get the point across and disseminate the message but with the live webinars and online events can come a sense of boredom or disinterest for attendees if they're expected to sit for hours on end and just listen to people talk.
Don't drop the swag. Sure, it might be harder to send out a bunch of items through the mail or a UPS/FedEx, but swag is important to some attendees. This is yet another area to get creative. You can still send swag, but offering a digital treat like a branded wallpaper for a smartphone, desktop or laptop could go a long way to further engage people.
Along the same lines, having engaging speakers who are experts in their industry and have the ability to be entertaining and informative is huge. For this reason, celebrities and athletes are big hits.
You spent all that time polishing that presentation and it didn't quite resonate the way you had hoped. So what went wrong? Turns out there is such a thing as too perfect. Your speakers should be able to inject a dose of humanity into the proceedings. A pause here, a stumble there won't lessen the message and might even make it more relatable. Don't mistake this for being unprepared, though — the speakers should still be prepared.
Top Marketing Conferences
Marketing is an important part to virtually any business or organization. Whether you're trying to sell a product or just the virtues of your non-profit, reaching people has never been more important. The following marketing conferences are considered the best around and ones you should definitely make plans to attend.
Need help shipping your trade show booth and materials? Fill out a short form or give us a call and one of our trade show specialists will answer your questions.
Inbound
Inbound, hosted by HubSpot, is one of the largest digital marketing conferences in the world. When hosted as a regular conference, the annual event has taken place in Boston. However, the 2020 edition is being hosted virtually in September to allow people looking to sharpen their skills in this arena.
This conference has a limited access feature that is free for those who sign up. However, those who want access to everything Inbound has to offer can find a paid option that is less than $100. Inbound has live streaming, video and audio content available from some of the world's biggest business leaders.
DigiMarCon
Another favored option for digital marketing conferences is DigiMarCon. Through Sept. 11, people who want to attend can get the three-day package for $147, which is $150 off the regular price. This is a world conference that usually takes place several times a year at different locations around the world but is holding a giant virtual conference.
It offers keynote speakers featuring senior management from Facebook, IBM, SEMrush, SparkToro, Atlassian and others. There is a load of additional content available and the ability to interact with peers to see what they're doing.
SaaStr Annual
SaaStr Annual is similar to Inbound in that it offers a limited free pass to its online conference, with passes for purchase to unlock all the content. This event will offer a plethora of live content, which includes speakers from Shopify to Zoom. Networking and mentorship are also on tap with a paid pass, with the idea of hopefully learning how to scale your venture more quickly.
Digital Summit
Digital Summit was scheduled to take place in Raleigh, N.C. But like many other conferences, it has moved exclusively online.
Digital Summit touts its in-depth content, top-line speakers, connections made and continued learning options as differentiators.
Content Marketing World 2020
One of the most expensive options to make this list, Content Marketing World 2020 takes place over the course of four days in October. This conference is supposed to be a top option for anything involving content marketing, and it is the largest. It generally has a top-notch rotation of speakers, numbering in the hundreds, and is up on the latest trends.
Leadership Conferences
For people already in leadership roles or who want to transition into leadership, there are conferences designed for that too.
International Project Management Day 2020
International Project Management Day 2020 Online Conference is unique this year in that you'll sign online to attend the Keynote Q&A in November but then have access through February 2021. Even a November Q&A can be accessed later if you can't make it.
This conference is geared toward project managers from around the world. This conference has a lobby area that you enter after logging in that then allows you access to what you're specifically looking for. This can be the Keynote speakers, exhibits, videos, resources and even a lounge to network with other attendees.
Leadership and Innovation 2020 Online Conference
In a similar vein, the Leadership and Innovation 2020 Online Conference is in March and runs through December. Individuals cost $189 to register and have keynote speakers and information on tap. The focus this year for this virtual event is on the event's four themes: Purpose, Impact, Innovation and Intrapreneurship.
Sales Conferences
Not everyone is trying to become a CEO or marketing guru. There are those who want to sell products, improve their sales output or see leads generated. If you're one of those people, the following conferences are for you.
Sales Growth Virtual Summit
In November, The Sales Growth Virtual Summit is open to anyone free of charge. This virtual conference has five confirmed keynote speakers and promises more than 40 sales experts to share insights for anyone involved in sales.
Sales Hacker Success Summit
Another completely free conference destined for the online world is the Sales Hacker Success Summit. This focuses on all aspects of how to thrive in business-to-business (B2B) sales. There are four confirmed keynote speakers and eight categories explored during this virtual conference. Each talk has the added benefit of offering a checklist, script, template or worksheet to help absorb the lessons better.
Need help shipping your trade show booth and materials? Fill out a short form or give us a call and one of our trade show specialists will answer your questions.
Consumer Electronics and Technology Conferences
Between electronics built for consumers and new technological advances being created in Silicon Valley and beyond, these two industries feature a ton of innovation. They also are the grounds to show the world what you or your company have been working on and what to expect in the future.
TechCrunch
TechCrunch in general is known as one of the top places for startup companies to be seen and holds several events each year. It has several different price points to attend and the price rises the closer it gets to the conference's start.
During this conference, you'll hear from heavyweights in Silicon Valley, including some of the very people who helped build it or are currently thriving in the area. This will come in the form of advice, Q&As and presentations.
Web Summit
It's also impossible to mention a technology conference without including Web Summit. This conference, going virtual this year after originally being tapped to happen physically in Lisbon, Portugal, is touted as the world's largest technology conference.
Past speakers include former United States Vice President Al Gore, Shaquille O'Neal, Stephen Hawking and Seth Rogen. The conference is usually held in November.
Consumer Electronic Show
While it was mentioned early as an illustrative example and is not actually taking place in 2020, you should still put CES on your map if you are interested at all in consumer electronics. They've already made the decision to have the "all-digital" event in January.
The beauty of CES is you'll see new products launched at the event and also see what the near future holds across more than 30 different categories. These categories include health, sports, autonomous vehicles, new cell phone/computer/TV technologies, gaming, artificial intelligence and a lot more.
Other Conferences
There are some conferences that are in a category all their own. They still have massive value to a certain group of people but are a little more niche. Some of these are free of charge, though, so if you think you'd be interested, it could still be worth signing up for.
Accounting & Finance Show
The Accounting & Finance Show was originally slated to be held in New York City but will have a virtual home in October. This event is completely free and geared toward accountants, bookkeepers, chief financial officers and really anyone in the financial industry.
You do have to register in order to attend but, for no cost, a guest will receive 150 speakers over seven different categories, exhibitors, CPE-accredited sessions and even the ability to download an app to network with other event-goers.
Invention-Con
You might also want to mark your calendar for August so you can attend Invention-Con 2020 online for free. With this year's theme of "Your IP: A power tool for building success", you can learn how to turn your Intellectual Property (IP) into a success. The conference will take place via Cisco WebEx.
This event is for IP holders or professionals, inventors or other business owners and entrepreneurs. There are a host of keynote speakers during the 5 hours of sessions each day.
RELIT! 2020
If your interest is in child development as a teacher or otherwise, RELIT! 2020 could be the spark you're looking for. Priced anywhere from $49 to $229, this one-day event in August each year pushes forward with the theme "Bring Your Brave".
The full slate will include multiple guest speakers and even a session-ending Q&A for those who secure the VIP package. Originally planned across three Canadian cities, this is now completely virtual and features experts in the field of education — both traditional and non-traditional.
Need help shipping your trade show booth and materials? Fill out a short form or give us a call and one of our trade show specialists will answer your questions.
FTWeekend Festival
If you'd truly like a bit of everything in one three-day conference, the 5th annual FTWeekend Festival might be just what you're looking for. Occurring in September, there are more than 100 speakers including Dr. Anthony Fauci. But the topics are varied, as social issues will be discussed, wine tasting and cocktail making classes will be offered and even poetry readings and performances given.
The prices for this event are in British pounds, but the currently U.S. dollar price equivalent is about $45 to $60 to attend based on whether you're a Financial Times subscriber or not. Depending on the prevailing conversion rate when you purchase, the price may be higher or lower.
LaterCon
LaterCon is a completely free social media conference. It touts its zero cost by saying all an attendee needs to be granted access is a first name, email address and an internet connection.
It starts in September and promises to help interested people grow their presence on social media. This can be for someone who wants to become an Instagram model or expand the reach of their business in order to make more money.
LaterCon has always been fully virtual and if you can't make it for some reason, they'll send you the recorded sessions to watch later — provided you did sign up ahead of time.
Shipping to Virtual Conferences with R+L Global Logistics
If you're a host or presenter at a virtual conference and need to get your setup to the main site, you don't need to look any further than R+L Global Logistics to handle your shipping needs. We are well-versed in how to navigate the shipping associated with conferences. Even with the shift to virtual conferences for the foreseeable future, we can assist you in your goals.
This assistance would come in the form of being able to freight ship products to your attendees. R+L Global Logistics offers supply chain logistics, which means we can pick up your products on our trucks, store them in our warehouses and then fulfill the orders via pick and pack when you're ready for your attendees to receive them. All of this is done in a knowledgeable and efficient manner that is also reasonably priced to provide great value for your money when shipping to a trade show.
So when you're ready to start shipping goods from your virtual conferences to the attendees, call the experts at R+L Global Logistics at (866) 415-8986 for a free quote today.
You're at a trade show and are possibly unsure about what would be appropriate to offer to patrons to draw them to your booth. Frequently asked questions about trade show giveaways are not as uncommon as you might think. 
But if you still have reservations about how to proceed, you're not alone. Here are some frequently asked questions about trade show giveaways and corresponding answers that should help your business decide what would best help represent the company. 
Why Are Trade Show Giveaways a Good Idea?
You're setting up a booth at a trade show. That in itself can be an expensive endeavor considering the rental of the space, and delivery and setup of the items. Yet you might still wonder what you can do to further draw potential customers in to talk to you.
Promotional products can be an effective way to accomplish this for a variety of reasons: 
To further the goals of your marketing plan through brand awareness.

To get your marketing message in front of your target audience.

To engender goodwill by having a tradeshow giveaway that is useful.

To paint the company in a positive light; for example, by issuing an eco-friendly gift.
These are just some of the ways that putting real thought into trade show giveaways can really give you an upper-hand over the competition. 
Need help shipping your trade show booth and materials?
Fill out a short form or give us a call and one of our trade show specialists will answer your questions.
What Are Some Good Ideas For Tradeshow Giveaways?
The idea is for the show attendees to associate your company with positive attributes such as excellent work or products produced, trustworthiness, great value and reliability. So your aim should be to get products that are useful in some regard and preferably an item that is not of a one-time use variety or a product that is likely to get thrown into a drawer or cabinet somewhere and never looked at again.
One additional thing to keep in mind is that buying in bulk will almost certainly be cheaper per unit than buying in single or smaller quantities.
Some examples of items that fit into this category for your target market include:
Water bottle: This is a good two-fold promotional giveaway. First, everyone needs to drink water, so it is a gift that should be extremely useful. Also your company will be viewed in a positive light for gifting an eco-friendly and more sustainable gift than if you got bottled water with your company printed on it. The latter are extremely disposable and might be in a trash can within minutes. A water bottle likely won't.
Coffee mug: In 2017, a survey by the National Coffee Association said that 64 percent of Americans 18 years and older have at least one cup of coffee per day. So there's nearly a 2 out of 3 chance that the person sidling up to your booth drinks the beverage either hot or cold. A nice ceramic mug with your company's branding on the side
USB drive: Not everyone wants to store their valuable information on the cloud, and it's always good to have a backup even if you do. Giving this to those who stop by your booth will be an opportunity for them to see your company's name and/or logo every time they access their stored memory on the stick. 
Mouse pad: You want the promo items you give out to be something omnipresent if possible. Many businesses still use desktops, which all include a mouse. Also, many laptop users add a bluetooth mouse for easier use, so you'd be covering most people who use a computer.
A tablet or laptop bag or sleeve: Although a cell phone case sounds like a good idea in theory, the sheer quantity of different phones would make giving those out completely impractical. However, laptops or tablets generally come in 2 to 3 standard sizes and most white collar businesses issue one or both to employees. You could get a 16-inch laptop sleeve, or 10-inch tablet sleeve and cover a plethora of devices, literally and figuratively.
Pens of good quality: To get nicer pens, it might cost more money upfront but the thinking is a better made pen will last longer, therefore stretching out the length of time your brand's name is in front of a customer. A pen that can be reused and have its ink replaced is perfect as a promotional item.
Also this is not an end-all list. Depending on your business, some of these items might not be as impactful. Knowing your customer base will go a long way toward deciding on what to give out.
Did you know another way to attract customers to your booth is with food? Check out our list of 3 Trade Show Snack Ideas that Attendees with Love. 
How Should I Distribute My Trade Show Giveaways?
Some of the item ideas listed in the previous section might not be financially feasible to hand out to every single person who strolls by the booth. You might set up games, raffle drawings or reserve higher-end giveaways for patrons identified as current important or potential important clients.
You can also have a tiered system where certain potential customers get certain gifts. A good way to do this is if you send out invitations of some sort, you can color code them as an easy visual cue for the people working your booth to quickly know what to give out. If you expect to encounter casual passersby to the booth, a much cheaper item would be warranted for them.
Either way, it stands to reason that each individual person who visits your booth would be limited to a single item, mostly to try to keep down your own cost of how much you spend on giveaways. You want to limit or not make some costly trade show mistakes.
Need help shipping your trade show booth and materials?
Fill out a short form or give us a call and one of our trade show specialists will answer your questions.
Ship Your Trade Show Giveaways With R+L Global Logistics
Now that you'd zeroed in on what you'd like your trade show giveaways to be, let R+L Global Logistics ship all your items to the next event. We can help load all your items at the point of origin and get them to the trade show with no fuss at all.
R+L Global Logistics will make sure everything for your trade show freight gets there on time and we have the 99.5 percent on-time rate to prove it. Also we partner with freight haulers all over the world to ensure we have a driver ready to ship your full truckload.
You'll receive access to a team who's done this work many times over and will do it right. We also have a great customer service team on call and real-time freight visibility to put your mind at ease through every step of the journey.
If you're ready to have your trade show giveaways and booth materials shipped, start today by getting a free quote or calling us at 866-415-8986.

While trade shows are typically treated as little more than a social event, trade show lead generation has the potential to produce significant financial gains. A common series of mistakes demote this business gathering into a party, resulting in a loss of time, resources, and even reputation. Evaluating the integrity of your booth is an invaluable skill that should be utilized before your team is at the event, starting with a very basic selection of staff. ROI starts with a certain category of team members, and ends with that same group. So who are these team members, and how will they optimize a booth towards gathering leads?
Salespeople, both articulate in business talks and in closing the deal, are the main component of a functional booth. To set a solid foundation to build upon moving forwards, we need to put effort into booth staff selections. Many businesses participate in trade shows, but put temps or other staff members in the booth, effectively crippling potential trade show lead generation. 
This error stems from the fallacy that trade shows are like business vacations, where the primary focus is on enjoyment as opposed to work. This couldn't be further from the truth given the fact that nearly every face in the crowd is a potential customer. A good sales staff can sell a subpar product, while a poor one fails to sell a superior one.
Months out from a trade show, senior staff members need to evaluate sales numbers, overall self-presentation, and feedback salesstaff receive to determine who to include in the booth. When a sales team selection has been finalized, booth staff preparation should begin so that they are informed about what is expected of them in terms of trade show leads. Then simply let them do their job! Lead generation ideas are their fortey, and with a clear definition of what's expected in terms of ROI, micromanagement is unnecessary. And with all that in mind, let them have their fun. As previously stated, trade show focus should be on business, but don't be the snobby booth either. Success depends on a delicate enjoyment-to-business ratio.
Need help shipping your trade show booth and materials?
Fill out a short form or give us a call and one of our trade show specialists will answer your questions.
How Do Trade Shows Work?
A trade show is a gathering of businesses with the purpose of showcasing their new products or services in the hopes of gathering new clientele. The events mix business with pleasure, focusing on making sales in a fun environment, keeping participants entertained and engaged. Products are displayed and discussed within a showroom booth, which range in sizes from 10' x 10', to the size of a house. A booth is where the action happens, comparable to a carnival game booth, where they want to draw you in and do business while keeping you entertained. Most trade shows feature workshops or presentations, where companies can present new products to the public. 
Trade show participation scale can range from a local show with attendance in the low hundreds, to events like SEMA with attendance well over a 100,000. Regardless of size, the potential for making sales is vast given that the majority of attendees have the right to make purchases on behalf of their company. Typically, around 81% of attendees have buying authority. Consequently this means that competition is steep, with most regulars reporting that aggressive marketing strategies are the norm. Limited floor space places competing businesses close together, forcing them to compete for attention.
But with all this competitive business going on, the focus still wavers on fun. Alcoholic beverages are just as common as business cards, and success is found in a trade show by finding a balance between the two. Most booths operate by incorporating fun activities that lead to trading information or persuading a sale, such as games, giveaways, or snacks. Booths that focus too much on either fun or business are the ones that tend to fail. Uptight booths, with a slew of powersuits and grim businesspeople scare attendees off. Oppsingly, party booths attract foot traffic, but without a focus on generating leads,the power of business is diminished. On that note, just how do we put together a game-plan for generating leads at a trade show?
How Do You Generate Leads at a Trade Show?
Through all the fun and events, the endgame for every single booth is to generate leads. This process should begin months out from a tradeshow in the form of sales staff preparation and promotion, and will continue on until gathered leads are followed-up on. This chain of events cannot have a weak link, or the structural integrity, and the final result will be unsatisfactory. So before we even delve into the full scope of generating leads, the prerequisite is to know who you're going to send, and send who you know. This circles back to sending your top salespeople, who are skilled at face-to-face contact.
With our team in mind, we've obtained the catalyst needed to move into the opening portion of generating leads: selecting our show strategically. Each part of working towards our lead pay-off depends on the previous segment being solid. Think of generating leads like a slot machine: we need to line all of our sevens up to get the best lead pay-out. One wrong selection, and we may end up leaving the trade show with nothing.
The integrity of the leads we gather depends on: 
Choosing the show strategically

Coming up with clear goals

Learning to identify those who aren't customers

Designing your booth with strategic designs 

Collecting email addresses and contact information
Each step is invaluable in its own right. Wrong venue, and we won't reach our target audience. Without goals, our sales people won't know exactly what's expected of them in terms of return. You wouldn't go to the grocery store without a list, so why would you go to a trade show without one? On that same note, sometimes things change, and we need to be able to adapt, readjust, and overcome. Have your strategy, but always have contingency plans. Maintain the mindset and staff to be able to be flexible, and, as the proverb goes, hope for the best but prepare for the worst.
Need help shipping your trade show booth and materials?
Fill out a short form or give us a call and one of our trade show specialists will answer your questions.
5 Tips for Trade Show Lead Generation
Now let's take an in depth look into the points outlined in the previous paragraphs. By now, you have your team in mind, so what are the specific points we need to build on before making trade show decisions? Don't be afraid to use delegation through any of these parts. Your team is assembled; utilize them. Chronologically speaking, you should have ample time to draw up a formidable plan yourself if you've set a reasonable amount of time aside for planning, but  including your team will help them get the trade show mindset warmed up.
In addition to delegation, hold conferences to brainstorm and compare ideas. A fresh look at the plan will improve upon individualistic perceptions. With that structure in mind, let's take a look at our first key component of getting leads.
Choose the Show Strategically
Shows come in many different variations and sizes. Don't get into a venue you could hardly afford, only to be the little fish in a big ocean. Other companies with larger budgets will already have their hold on the audience, and you'll just waste time and resources. Alternatively, being the big kid on the block can be fun, but if a show is too small, your large company doesn't stand to benefit from it much. More importantly, you need to know the attending audience, otherwise they may never even care about your products to begin with.  Want a list of all the best trade shows across the US? Check out the list of top trade shows by industry. Most trade shows can provide you with statistics on the interests they generally see in the crowd, and researching the area yourself won't hurt either. 
Concepts like these are the points to check before booking a show.
Figure out the size of your business, and compare it to other businesses in attendance to know if you fit. 

Know your audience, and make sure those in attendance fit that type. 

Calculate your booth budget, and ensure that includes good floor placement at the trade show. Event marketing is mostly done from your booth, so research which area will be best for your particular brand.

Stay updated on the publicity of the event itself. If the trade show's CEO just went on the news for insider trading, it's likely people will avoid the show at the last minute. This point also brings up the point to think outside the box when selecting a trade show. Don't just glance at the show's past success for an idea of how it will do this year; do indepth research on your own time, research that goes deeper than surface statistics.

Get in there as an attendee before opening a booth. See what catches your eye, and those of other participants. To fully understand the potential lead, one must become the potential lead.
To summarize, know your budget, know your audience, and know the location. Once you've accomplished all this, you've set the foundation for a successful showing. This is the phase where research comes into play the most, and will play the second largest role in performance after having a good team assembled. With our venue scouted, we move into the next phase: setting our goals for attendance.
2. Come Up With Clear Goals
Setting goals gives us something to aim for in terms of ROI. This concept ties back into the business/party setting of a trade show. We want goals that are difficult, but not to the point where our team can't enjoy the show. If the goals are too easy, we've established a party oriented booth, but if they're difficult, we've created a work atmosphere. We need to find that right balance where our team can both create leads, AND enjoy the show, as this will actually produce the best results. Believe it or not, attendees come to trade shows because they're fun events. If your goals are too high, and your team too focused on work, people will pick up on it and avoid your booth.
So the first step to setting goals depends on the results you got from the previous step. With an idea of how many attendees will be interested in your products and services, and how many of your direct competitors will have a booth, we can draw an idea of what that should translate into sales. Around 81% will have buying authority, so subtract 19% from total attendance and discard it. Then, research the percentage of those with buying authority that will be interested in your product. Calculate how many of your direct competitors will be struggling with you for their attention, and divide the number by half of the total number of competitors. That's the golden ratio for how many leads you'll hope to gain.
Have your sales team involved with this step. They need to know what their goals are, and how exactly you came to that conclusion. If it feels like you drew a random number out of a hat, then they may dissociate themselves with the final goal. Take time to weigh their concerns with that number, especially if they have trade show experience. They're paid to make sales after all, so they're the best subject matter experts you'll find to help with discerning potential leads. Now remember that 19% who don't have buying authority? We'll touch on that next.
3. Learn to Identify Those Who Aren't Serious Customers
Roughly 19% of attendees don't have buying authority, and are in attendance literally for the pleasure side of things. Business isn't an idea that matters to them, and they're present to benefit from all the free things that are in circulation. With no lead potential to any extent from them, it's essential to learn to discern our rubberneckers, whose sole purpose for attending a trade show is to lug out as much free loot as they can carry. This portion will be delegated entirely to your show floor team. Don't worry, there's a way to filter out the looters and create a sales funnel.
It's genuinely pretty obvious when somebody's present only for free loot. A few obvious signs to tip you off before you even speak with them are tell-tale things like when they already possess a massive amount of free stuff, or just the apparent disregard for your anything in your booth other than your own freebies. No need to be rude to them, but keep them moving, our goal is purely lead generating. A quick solution to dealing with them is to simply offer your freebies as rewards for giving contact information, or as rewards for doing some level of business. This affirms that your goodies are only for qualifying leads. With a room already packed with other free merchandise, even the slightest tedious task will keep them from hauling yours in their loot bag out the door.
4. Make the Most of Your Booth with Strategic Design
A trade show booth is the first thing a potential customer sees before they converse with your staff. Make sure you convey the right message, using the booth like a billboard to gain the attention of your niche audience. Don't create a misinterpretable booth; you'll end up with countless dead-end leads unless people know what they should expect when they walk into your booth. With the right focus, a booth will attract the right leads, acting like a filter that screens out those who aren't interested before they even speak to your staff.
There are a few other easy steps that can be taken to bring not only the right crowd, but get you a high-volume of quality leads. 
Find images of competitor's booths from previous years. Determine how well their booth did, and you've saved yourself plenty of time by circumventing the trial-and-error process. 

Size isn't everything. If your booth is too big for your team to cover, or has too much empty space, then you're bleeding ROI.

Have your social media URL and QR code posted on the walls of your booth. Using social media to reach potential leads who pass by not only helps catch their eye with the familiar social media logos, but shows that your brand is up with the times.

Strategic design includes placement! Try to get placed close to your competitors. Attendees who come to visit their booth are already looking for products and services similar to yours, so catch their eye.
Consider your booth another team member. It needs to have a personality that speaks to every passerby about who you are, and what you're selling. Before your sales team has a chance to make your presence known to a customer, good ol' booth will be displaying it for the whole showroom floor; make sure it's a good message.
Need help shipping your trade show booth and materials?
Fill out a short form or give us a call and one of our trade show specialists will answer your questions.
5. Collect Email Addresses and Contact Information
Collecting contact information can be done a variety of ways, but first and most effectively, we have badge scanners. On average, there's enough lanyard string present at a trade show to reach from California to New York. Every last strand of that same string is attached to a card with a lead's contact information on it. Have either one, or preferably multiple scanners on hand through your booth where your booth team can easily utilize them. With these you can also shorten your speeches and simply drive traffic through your booth and maintain an ongoing connection with a lead without having to stop and exchange information.
A more old-school but effective way is to get their business card. The business card method also adds a level of security that a simple badge scanner can't give you regarding the quality of a lead. Going back to our 19% who are there to collect free loot, they'll all have a required badge, but less will have a business card because they aren't planning on doing business. With that in mind, we don't waste the time of our salespeople with dead end leads when we go the businesscard route. If you go this route, you'll have to manually input information directly after the trade show to track leads to determine the viability of a sale.
Trade Shows with R+L Global Logistics
Trade shows are an ever evolving beast, but with our current information, you're giving yourself the highest ceiling to work with. When you use our trade show freight shipping service, that ceiling becomes ever reachable, with our team of world-class transportation specialists at R+L Global Logistics assuring your booth's articles get to the show no matter the location or time. You've invested your time into learning the fundamentals of trade show success, so invest in your booth next with the best shipping services.
With the knowledge you've accumulated towards trade show lead generation, your team will be prepared when they reach out to potential customers. If you need any more information on how we can guarantee the safe delivery of your booth articles, please reach out to us. From our team to yours, we wish you only the best in all of your pursuits.
Engaging current or potential customers at the trade show booth is the entire reason your business is at a trade show in the first place. So coming up with some awesome trade show booth game ideas can really give the presentation or engagement level of your trade show display a major boost.
Offering a free chance at earning something a potential or returning customer might want is the basis for coming up with awesome trade show booth game ideas. Let's take a look at some of the best ways to make your booth the most fun it can be and also help your business in the process.
Before we start, it is also worth mentioning that you should engage customers on social media prior to and during the event to make them aware of your presence ahead of time. 
1. Prize wheel
Some people really enjoy games of chance and spinning a wheel with a small probability of getting the best prize certainly fits into that category. 
You can have a big, physical prize wheel or go digital on the trade show floor but either way, the interactive nature will draw excitement to your booth and you can further your own promotion by asking for contact information like email addresses or phone numbers in order to register for their chance at some great swag.
You can also have a variety of prizes available, ranging from standard trade show swag to a harder to win but more coveted giveaway that you feel is appropriate for the setting. There is no one way to do it but the top goal for your business should be for trade show game players to win a prize and have it be successful enough at event marketing to meet your business' ultimate goals.
Need help shipping your trade show booth and materials?
Fill out a short form or give us a call and one of our trade show specialists will answer your questions.
2. Trivia games
Doing a general trivia game could be fun in either of the two ways it can be run. You can either have people fill out a sheet or piece of paper with their contact information and hand it in to you, which would be an easy way to later connect with possible customers. 
Or make it a more fun process with teams of trade show goers in a more interactive, real-time event to give the proceedings an engaging experience. The trivia can be anything, from pop culture to sports to history or maybe even fun facts about your organization so your customers can learn more about your company.
While the main focus should be on making it a great pastime for your visitors, also make sure the trivia is appropriate, both in relation to your business' message and also for mixed company.
3. Business card raffle
Have you ever wanted your potential customers' information delivered to you in a nice, neat stack? Holding a business card raffle will do just that and is a low-effort way to have access to a new database of customers.
In order to entice trade show attendees to give out their personal information, there needs to be a coveted prize awaiting them. It could be normal swag or maybe just slightly above and make it a gift card to a popular store or restaurant. Either way, holding a business card raffle and giving out a ballpoint pen would probably be a letdown for people who visited your booth. 
For the booth operator — i.e. you — a $25 or $50 investment in a cool prize is an amazing value proposition to get dozens or even hundreds of new leads from interested parties who want a chance to win something cool. The prize can be even bigger to really drive conversation, like an iPad or other electronic device that many people would covet or a cool gift basket filled with a bunch of items.
This is most likely the easiest trade show booth idea to implement and then execute. You literally need a cool prize and a fishbowl or something similar.
4. Arcade games
If you want to be the life of the party, this might be the way you choose to go. While there are a variety of different games available, the one (or more) that should be picked should have some connection on the kind of product or service your company is advertising.
Some examples of arcade games could be a pop-a-shot basketball setup, skeeball or maybe even renting an old-school arcade cabinet featuring a game such as Ms. Pac Man or Donkey Kong to appeal to both younger and older convention goers alike.
These ideas are good because it offers (hopefully) light-hearted competition and also a chance for people to see their name up on a list for achieving a high score, which could further drive foot traffic and more people to your booth.
Or if you want to go to a more new-school approach, maybe something involving virtual reality to really draw people into the fold. You want to impress and capture the attention of the people who visit your booth.
Games aren't the only way to attract customers to your booth. Consider these 3 Trade Show Snack Ideas that Attendees Will Love.
Need help shipping your trade show booth and materials?
Fill out a short form or give us a call and one of our trade show specialists will answer your questions.
5. Putting contest
It's something almost everyone has done at one point in time: picked up a putter, put a golf ball down and lined up a shot for the hole just feet away.
Having a putting green, a putter and a ball shouldn't be too expensive but it will give people a chance to put the ball into the hole and win a prize in the end. This goes along the same train of thought as arcade games.
Golf is a popular sport worldwide and it can lead to a laid back environment. This doesn't necessarily have to be a straight giveaway either: if a possible customer strokes it in on the first try, maybe they get first dibs on a discount or limited-time offer on your products or services.
Shipping to a Trade Show with R+L Global Logistics
Once you have your trade show booth ideas locked down, let R+L Global Logistics be the final piece of the puzzle to give you the ultimate peace of mind.
R+L Global Logistics can help you with your awesome trade show booth game ideas by picking up those supplies, plus your other booth materials, and shipping it to the venue in a fast, efficient and friendly manner.
We offer full trade show freight shipping with an experienced fleet to meet any of your shipping needs, and have real-time freight visibility and a 99.5 percent on-time rate that will keep you informed and confident during the shipment.
We also offer other specialized freight shipping services such as expedited shipping and international shipping. Add to that our available and helpful customer service, and R+L Global Logistics is the perfect partner to make your business a great success at your next trade show.
When you're ready to partner with the best freight shipping company for your trade show needs, call 866-415-8986 for a free quote.
Trade show booth rules can often be confusing and difficult to comply with. If you're trying to manage the logistical issues of transporting your booth and materials, setting everything up, and preparing your strategy, then the last thing you want to worry about is getting in trouble with the venue owners for not following one obscure rule! To make matters worse, every trade show is going to have different rules. But before you start to worry, know that there are several standards that remain relatively consistent among all U.S. trade shows. If you educate yourself on what those are, then understanding the rules for different trade shows will be easier. 
Though trade show booth rules vary by location, most shows have consistent rules regarding booth size, display height, structural stability, music, food, laws, and more.  In order to play it safe, you should plan to avoid playing copyrighted music, overflowing outside the boundaries of your booth, obstructing people's view of other booths, or causing a distraction. However, there are many other rules you need to be aware of too. 
What are the Different Types of Booths at a Trade Show?
Not all booths are created equal. There are four universal types of trade show booths, each with different sizes and price ranges. Before you start thinking about how you want to set up your trade show booth, you need to know the difference between these types of booths and their limitations. This is true regardless of whether you plan on building your trade show booth or buying one custom-made. Once you know that, you can make the decision about what is best for you and your display plans. 
Linear Booth
The linear booth is also called the "standard booth," because it is the most common type of booth in most trade shows. It is also usually the cheapest option. A linear booth has other booths against the back and sides since it is in the center of the trade show floor.
The standard size for linear booths is 10' by 10', and participants can only enter the booth from one side. Because the booth is up against other booths on three sides, the front is the only side that is accessible.
Perimeter Booth
Perimeter booths are a lot like linear booths, except they only have neighboring booths on either side. The back of the booth is up against the showroom wall, so these booths quite literally form a perimeter around the rest of the trade show. 
Perimeter booths are also similar to linear booths in the fact that they share the same dimensions. They are also typically 10' by 10', making them almost exactly like the linear booths. However, because it is against a wall, perimeter booths can often have taller displays. 
Peninsula Booth
Peninsula booths are the ones that cap the end of a row of standard booths. Only their back wall is against other neighboring booths, and they can be accessed from the front and both sides of the booth. 
Because peninsula booths take up the width of two linear booths, their dimensions are typically 20' by 20'. However, depending on the venue, they can also be larger than this. They are typically more expensive than the linear or perimeter booths.
Island Booth
Island booths are the most unique type of booth. They do not have any neighboring booths in contact with them, so they can be accessed from all sides unless the booth vendor has made the specific choice to block off one or more of the sides. 
Island booths are typically 20' by 20' but they can often be much larger depending on the location. Some island booths can be choice locations for vendors, but they usually come with a hefty price tag. 
What is the Height of a Trade Show Booth?
The maximum height limit for a trade show booth depends on a few different factors. First of all, it depends on the height of the ceilings in the venue. You obviously cannot exceed the height of the building. Another factor is that the venue owner could set an arbitrary limit to the height that your booth is allowed to be. Also, in general, the height limits for the different booth types are going to be different as well. 
For linear booths, the maximum height is 8 feet.

For perimeter booths, the maximum height is 12 feet.

For peninsula booths, the maximum height is 20 feet.

For island booths, the maximum height is usually 20 feet, but that can often be much higher.
Before committing to any designs that meet these height requirements, be sure to contact the venue owners for specific information. These heights are just generalizations, and although most venues abide by these specifications, they won't be definitively true for every different trade show.
Compliance with the Americans with Disabilities Act
Because they are considered "public accommodations," trade show booths must comply with the regulations of the Americans with Disabilities Act (ADA). That means that your booth should be set up to accommodate individuals with disabilities, whether their disability is with mobility, sight, or hearing. 
In order to provide an equal experience to all individuals visiting your booth, you should keep the ADA regulations in mind when you are laying out your booth's design. If your booth is elevated, or has elevated sections, then you will need to include ramps for individuals in wheelchairs. You should also keep promotional resources and handouts within reach for everyone.
If your booth has any promotional videos playing, you should include subtitles for hard-of-hearing and deaf individuals. Additionally, if you have knowledge that a deaf individual will be visiting your booth, you are legally obligated to provide a sign language interpreter for them. 
Failure to follow the ADA's guidelines will result in hefty fines, which increase with repeated violations. If you are found in violation of the regulations once, you can expect to pay up to $55,000. Subsequent violations will result in fines of up to $110,000 each, so make sure you take the time to ensure everything is compliant and accessible. 
Need help shipping your trade show booth and materials?
Fill out a short form or give us a call and one of our trade show specialists will answer your questions.
Line of Sight Restrictions
When designing your booth layout, you also need to ensure that you are being compliant with the line of sight rules. This means that you are not allowed to obscure a person's line of sight to another booth. Nothing in your booth may conceal or obscure anything in the booths around you. Even though trade show booths can be quite tall, the displays within them must adhere to specific height restrictions, while all banners and signs should not be in the way of a person's view of the booths next to yours.
The front half of your booth is the part to really think carefully about. You may not place any items or displays that are taller than 4 feet at the front of your booth. You also cannot have banners, hanging signs, canopies, graphics, shelves, signs, or anything of the sort in that space in the front of your booth. 
On occasion, variances for this rule can be granted. However, do not count on being given an exception, since this is rarely allowed. 
Confines of the Booth Restrictions
Almost all trade shows have a "confines of the booth" agreement in the contract. What does this mean? Well, the rule is pretty much what it sounds like. Everything about your trade show display and strategy must take place within the confines of your allotted space. You cannot have any lights, banners, or signs outside of your booth space, including overhanging displays. 
This also means that you will not be allowed to exit your booth to pursue conversations or to distribute marketing materials. Keep your sales pitch for those that actually enter your booth, or you could get yourself in trouble with the venue owner. Even having your employees wander around to converse with show-goers could violate this rule.
Structural Integrity and Stability
When setting up your booth, you need to make sure that your displays are secure and stable enough to withstand reasonable handling. Anything in your booth could end up getting poked or prodded by curious visitors, so you should make sure that nothing can be easily knocked down. 
Additionally, there may be wind blowing through the exhibit hall while booths are being brought in and assembled, so your setup must be able to withstand that without toppling. You may also need to prepare for tremors, jostling from neighboring vendors, and other booths setting up around you. Most importantly, double-check all shelves and tables to ensure that they were assembled correctly and will support the weight of anything you place on them.
Refer to the temporary building code regulations for the city in which the trade show is taking place for more specific information. 
Lighting Regulations
Providing your booth with additional lighting can be a great way to make your trade show booth stand out, since you can illuminate your exhibit space a lot more clearly and emphasize sections of your display with directional lights. It can be an important aspect of design, but it can also be an intrusive and obnoxious way of drawing attention to your booth. 
All your lighting should be directed towards the inside of your booth and should comply with the confines of the booth rules outlined by the convention center owner. You cannot allow for lighting stands or bulbs to reach outside of your allotted booth space. Instead, you need to make sure that all stands, electrical cords, and fixtures are safely within your booth. 
If part of your display involves light that is brightly colored, spins, pulsates, or has some other effect, then you should bring it up to the venue owner. If your light show distracts from or interferes with other booths, or if it does not fit the atmosphere of the event, you will not be allowed to use it. Additionally, lasers and strobe lights may present health hazards, and won't be allowed in most shows. 
Music and Sound
If you intend to play music in your booth, there are several regulations regarding the use of speakers and music that you need to be aware of. The area of the exhibit is tightly packed, and you should be courteous to your fellow vendors. Under no circumstances should you allow the noise level in your booth to disrupt the activities of the vendors around you. Sound should be kept at a maximum level of no more than 85 decibels when measured in the aisle in front of your booth. 
In addition to the overall amount of noise your booth produces, you should also be aware that any speakers should be directed towards the inside of the booth. You should never have speakers projecting sound or music out towards aisles or other booths, or you may be forced to shut the sound off. 
If you intend to play music, be aware that you will need to comply with all the applicable copyright laws. You should contact an authorized licensing agency such as the American Society of Composers, Authors, and Publishers (ASCAP) or the Society of European Stage Authors and Composers (SESAC) to pay copyright fees for any music you play in your booth. Those agencies then forward the paid fees to the appropriate composer or publisher that owns the music rights. 
Music and sound is just one part of a complete checklist for trade show vendors. For more information on what else exhibitors should bring, read our article Trade Show Exhibitor Checklist: Plan For Success.
Need help shipping your trade show booth and materials?
Fill out a short form or give us a call and one of our trade show specialists will answer your questions.
Food and Beverage Regulations
Before you put a bunch of snacks on your trade show packing list, be aware that some exhibit halls don't like it when vendors hand out food or beverages. This is especially true if your business is not in the food industry. If you are handing out food, then people are less likely to eat the food that the venue owner had catered for the event. If you hand out food at your booth, you may be fined an amount of money equal to the loss of revenue you cost the catering company. 
However, not all trade shows are the same. There may be instances in which it is perfectly acceptable—or even encouraged—to bring your own snacks to distribute. Be aware though, that any alcohol present at the show can only be distributed by the licensed caterer. 
Failure to follow the rules of the trade show could result in your booth being shut down. You may also be forbidden to appear in future trade shows, so do not take these regulations lightly.
Insurance
Some trade shows require a Certificate of Insurance (COI) before you will be allowed to even purchase booth space. Your insurance must be able to cover comprehensive general liability (CGL) for all exhibitor-appointed contractors and the exhibiting company itself. 
Understanding trade show insurance can be difficult, but it is definitely not something you want to skip over. If you can't provide the required paperwork, you might not even be allowed through the door!
Sometimes, the venue owner may partner with an insurance company to make things easier. This makes it easier for the venue owner to monitor who has insurance and who doesn't, and it makes it easier for the vendors to reach out if they have questions about the policy.
Cancellations
No one wants to think about the possibility of being unable to attend a trade show because of something outside their control. However, sometimes things happen, and you may need to cancel your attendance. When this happens, the more notice you can give the venue owner, the better. Being able to give enough notice could make the difference between getting or not getting a refund for the trade show fees. 
Usually, refunds for cancellations are structured to offer partial refunds depending on how much notice is given. The earlier you can notify the owners of your absence, the more of your deposit you are likely to have returned. 
Although each trade show is different, a structured refund policy might look something like this:
9 or more months notice: full refund

6 months notice: 75% refund

3 months notice: 50% refund

Less than 3 months notice: 25% refund

Last-minute notice: no refund 
Remember that a refund policy is not obligatory. A trade show might not offer refunds at all, and if they do, the time limits may be more strict than the ones outlined above. Communicate with the venue owner if you have any questions.
How R+L Global Logistics Can Help
When you're getting ready for a trade show, you already have your hands full with designing your layout, complying with trade show booth rules and regulations, and coordinating all the different elements of your strategy. Don't let the logistical challenges of moving your booth and materials to the show be another thing that is stressing you out.
With R+L Global Logistics, you can leave the transportation to the experts while you work on getting ready to give it your all on the trade show floor. We can handle the packaging, safe transportation, and secure storage of all your trade show materials so you don't have to. With our unmatched trade show freight service, outstanding customer support, and 24/7 availability, we can work closely with you to understand your unique needs and challenges to offer you the best service possible. 
While you worry about the trade show booth rules, we can worry about making sure your booth and supplies get to you exactly when you need them, regardless of if you need domestic or international delivery. 
What are you waiting for? Request a quote now, and you could go into your next trade show feeling confident!
In this guide, we will reveal all of the trade show shipping tips you need to guarantee success at your business' next exhibition. A trade show is any sort of exhibition whereby businesses gather to show off their products and services. In order to make sure that your presence at a trade show is a success, you need to plan to perfection. This includes having your exhibition stand and any other materials and products you will be using delivered in a timely and professional manner. This is where trade show shipping comes in. 
There are many tips you can follow for a smooth arrival when shipping to a trade show. Follow these trade show shipping tips:
Find a trade show shipping company with experience
Communicate with your shipper
Know the exhibitor's manual inside and out
Keep the details organized
Don't send extra items
Complete all documents
Working with the right shipper and following these tips can get your booth to and from the show without hassle.
What is Trade Show Shipping?
On top of booking travel arrangements, creating marketing collateral, and designing your booth, organizing the shipment of all of your trade show materials can seem overwhelming. This is especially the case when you consider just how important this service is. If you do not get your booth materials to your show on time and in a safe manner, you're not going to be able to make the most of the opportunity. However, the trouble is that diligent planning and some legwork is required in order to make sure you don't run into any problems. Being aware of trade show intricacies and staying organized can be a massive help. 
Trade show shipping is the process used to get your booth to the show on time and intact. It requires working with a skilled and experienced logistics partner. Even with the right partner, there are a few tips you can follow to make the transition from warehouse to trade show floor simple. With that being said, below, we have put together some advice on trade show shipping, ensuring you have all of the details you need.
1. Plan in Advance
There is only one place to begin when it comes to achieving trade show shipping success, and this is planning in advance. In order to best determine the transportation solution that is going to be the most efficient for your trade show shipping requirements, ask yourself the following questions:
Are there any special requirements required for pick-up and delivery?

How much time have you allotted for transportation?

Where is the shipment going?

What are the packaging requirements for the shipment?
When compared with traditional freight, trade show shipping can have longer timelines. You may need to send your materials and booth items weeks in advance. Therefore, it pays to develop a detailed timeline as soon as you know you and your team are going to attend a tradeshow. It is vital to make shipping a priority. This is because working ahead of time can present you with more opportunities in terms of lowering the cost and benefiting from different transportation options. 
In some cases, a show may have their own preferred carried. However, you are not obliged to go down this route. You can shop around and ask a number of different carriers for a quote. Once you build up a relationship with a good logistics company, you can rely on them whenever you need assistance with any sort of trade show freight, and so it is advisable to find your own provider that you can rely on rather than using a different recommended freight company every time you attend a new trade show.
In terms of recommended timings, it is advisable to make sure you start looking at your options and booking a service between two weeks to a month before your preferred shipment date. The sooner you do so, the better. Carriers that specialize in trade shows could end up booking up their capacity if your orders are not scheduled in time. Furthermore, by providing notice, you enable carriers to optimize the movement of your freight. This can often result in some great cost savings. 
Need help shipping your trade show booth and materials?
Fill out a short form or give us a call and one of our trade show specialists will answer your questions.
2. Find a Trade Show Shipping Company with Experience
The next piece of the puzzle is to make sure you choose a trade show shipping company with care. There are a lot of different businesses across the United States that provide general freight services. However, rather than going down this route, you are advised to look for a company that has specific experience in trade show shipping. This should be something that they specialize in if you are to get the best possible results.
Take the time to read their website so that you can make sure that they have many years of experience behind their belt. It is also advisable to take the time to read reviews that have been left by people that have already used the services of a trade show shipping company before. This will give you a good indication into their level of quality. Make sure you read comments on independent review platforms, as you can be sure of the authenticity of these reviews. 
3. Communicate with Your Shipper
Once you choose a trade show shipping company to work with, you will be assigned a representative who will handle all of the different aspects of shipping for your trade show materials, displays, and booth. This person should be available for you to contact whenever you need to, and you should definitely do so. By building up a relationship with your shipper, you will be able to ensure the transportation of your show site is more productive and less stressful. 
4. Know the Exhibitors Manual Inside and Out
The vast majority of trade shows and exhibitions will provide their exhibitors with a manual, which will explain everything they need to know about the show. This includes information on insurance requirements, as well as general rules and regulations. You can also expect information about exhibit services, travel, and deadlines. In regards to the latter, you will be able to discover all of the important deadlines with regard to your shipment.
In addition to this, the trade show manual should also feature information about general shipping guidelines. This will include information on the recommended freight forwarder for the exhibition. Although all trade shows provide a recommended company for shipping, you are not obligated to use their service. You will also be provided with information on how to arrange pre-show storage and any other services relating to the on-site handling and delivery of your goods. You will also be typically provided with a point of contact for all things shipping related.
Need help shipping your trade show booth and materials?
Fill out a short form or give us a call and one of our trade show specialists will answer your questions.
5. Keep the Details Organized
In addition to the tips that have already been presented, it is important to keep all of the details organized. There are a number of different documents you are going to need to keep a hold of, as well as pieces of information that you will need to keep handy too. 
To make your life easier and to avoid stress, it is a good idea to ship your display early so you have not got any last-minute concerns. Shipping to an advanced warehouse will give you full confidence that your display will move in on schedule. You run the risk of missing the start of the exhibit if you send your display to the show site directly. This is because these deliveries are not offloaded until the advance-warehouse deliveries have been. If you are going to be sending any sort of shipment directly to the show site because you have no other choice to, then make sure your carrier knows of the move-in hours for the show. Let them know if your shipment is a targeted booth for a specified move-in time or date.
In terms of getting organized, something else you are going to need to do is keep the phone numbers and names of the following people in your phone contact list:
The show decorator

The customer service center for the trade show shipping carrier

The general services contractor and the on-site representative
By having these contact numbers handy, you will be able to reach those who can help with ease.
6. Make Sense of Insurance
Insurance is another critical area of consideration for trade show shipping. There are a lot of different insurance options available when it comes to your trade show shipments. This includes extended liability coverage, carrier insurance, and corporate insurance policies. Some carriers will also provide you with exhibition floater insurance, which will ensure that your items are covered for the entire show. The vast majority of freight forwarding companies today are insured against delays and loss. However, rather than assuming that this is the case, you definitely need to make sure that you get in touch with the company to make certain that it is. 
7. Don't Send Extra Items
Finally, a lot of people look for different ways to cut the costs associated with freight forwarding for their trade show. One of the most effective ways to do this is to make sure that you only send the items that you need. While it can be very tempting to ship a lot of extra items, just in case you need them, this is only going to end up costing you more money. After all, not only do you need to consider the expense of getting your items from their current destination to the trade show itself but you also need to think about the cost of storing these products and materials once you arrive. Because of this, you are recommended to only send materials and things that you are genuinely going to need.
8. Complete All Documents Correctly
Finally, you need to make sure that all of the documents associated with the shipment have been completed correctly. Proper paperwork and labeling are critical for trade show freight. You run the risk of materials being misplaced if you do not complete the paperwork correctly. You also need to make sure that all of the following details are placed on the paperwork:
It is advisable to place this information on all sides of your case, crate, or pallet. Clarification matters because freight is going to be stored with a number of other shipments for trade shows. You may even receive color-coded labels, depending on the show you are going to be exhibiting at. These labels can be helpful because they enable event staff to figure out which areas or rooms the freight needs to go to. If these labels have been provided to you, then you should definitely use them. 
Need help shipping your trade show booth and materials?
Fill out a short form or give us a call and one of our trade show specialists will answer your questions.
One of the most important documents is the Bill of Lading (BOL). This is utilized at the time of pickup. It is imperative when it comes to ensuring your trade show freight shipment goes as smoothly as possible. You need to make sure that all of the following information is printed on the BOL:
The dock number for delivery

The trade show decorator and phone number

The contact information and the name of the on-site trade show contact for your company

The number and name of your tradeshow booth

The specific hall or event room within the facility

The complete name of the show - do not use any acronyms

The physical address of the complex or building where the show is taking place
Shipping to a Trade Show with R+L Global Logistics
Hopefully, you now have a better understanding of the different elements and qualities that you need to consider when it comes to finding the best company to help you with your trade show shipping requirements. One company that ticks all of the boxes that have been mentioned, and many more, is R+L Global Logistics. Our trade show shipping team has been designated to ensure that specialist trade show shipping requirements are met. With more than 50 years of combined experience across our team, you can be confident of outstanding results when you use our service. 
Trade show transportation services logistics make up a big part of our business. Over the years, we have built up strong relationships with exhibit systems providers who trust us to deliver a seamless customer experience. You can be sure that you are in the right hands with us, whether you are reviewing a CES checklist or prepping for a trade show booth. We have our own warehouses across the United States, as well as being partners with exhibit providers and having strong relationships with leading shows. This ensures that we have all bases covered when it comes to providing exceptional trade show logistics services. If you would like more information about the service that we provide or you want a free trade show freight shipping quote, all you need to do is give us a call on (866) 415 8986. You can also use our live chat feature for further help and assistance. 
So there you have it: all of the important trade show shipping tips that you need to make sure that your trade show goes off without a hitch. If you follow the advice that has been provided in this guide, you will be able to make certain that there are no disasters on the day caused by not having your exhibition stand or any of the other important items you require.
When attending any sort of trade show, there is no denying that there is an awful lot of planning that goes into it. This is certainly the case if you are planning on attending the famous CES exhibition, which is why we have put this CES checklist together. Below, we will provide you with a timeline of everything that you need to do building up to the show. This guide can be useful for those attending this year, as well as providing imperative information for anyone looking to make their introduction at next year's show. After all, ideally, you are going to start planning your attendance from a year-out. 
CES, which stands for Consumer Electronics Showcase, is an annual trade show that focuses on innovations in technology. As an exhibitor, you need to follow a CES checklist for vendors to make sure your booth is ready when you are. From planning things 12 months in advance to getting ready the day of the show, there are simple steps you can follow to be ready for the razzle dazzle at the CES show.
What is CES?
CES is a trade show that gathers the best of the best from around the world when it comes to consumer technology. CES has served as the proving ground for emerging technologies and innovators for the past 50 years. The annual CES show is a product of the Consumer Technology Association.
There are more than 4,500 exhibiting businesses at CES. This includes technology delivery system suppliers, content providers, consumer technology hardware companies, as well as a huge assortment of developers and manufacturers too. There are more than 170,000 attendees across 160 countries, as well as over 250 conference sessions. This represents an excellent opportunity for businesses to get their brand, products, and services in front of a great and varied audience from across the globe.
How Do I Prepare for CES?
If you are planning on attending CES, you may be feeling at a bit of a loss regarding where to start. Here are some of the things that you will need to do:
Make the decision

- There is only one place to begin, and this is by actually deciding to exhibit at the event. The sooner you make the decision, the better. You will want to make sure you are able to secure a booth before they are all taken. 
Bring something new to the table

- You need to plan the technology you are going to show off at this event. Playing the media game is going to be incredibly difficult if you do not have something new to showcase. You also need to make sure you have a unique and/or interesting angle. With such fierce competition, having something new is not always going to be enough. A 'first' is always a good sell. For example, in 2019, LG showcased the first rollable TV in the world. Yubico also debuted their first Lightning security key for iPhones at the 2019 show. 
Sign up for the media-only and pre-show events

- You are also going to need to make sure you prepare for anything that is going on around the event. The pre-show events are only for the media, which means reporters have the opportunity to try out your product and ask more questions while they are learning about your company. 
Put together your team

- You also need to put together a team that is going to run your booth and demo your product. You also need to think about whether or not you want employees to be brought in that can speak to your customers. You will also need to assemble your PR team with established media connections and CES experience so that they are able to answer any questions effectively. Once you have finished assembling your team, you can then begin to train them properly. 
Think like the media

- Once you have signed up to all of these events, you need to start thinking like the media. This is the only way to make sure you provide them with something that is media-worthy. What are the topics that the media are covering at the moment? 
Determine how you are going to draw in a crowd

- There are so many different techniques that companies have used to try and draw in a crowd. This includes everything from good old product demos to chefs to even celebrity appearances. You need to think of how you are going to attract people to your trade show booth. However, your most effective tool should be your product. If you are going to be able to attract people to your booth with just your product, then you know you are onto a winner. 
Prepare your materials

- You are also going to need to prepare your materials. You do not need to bother with a brochure or USB stick. You simply need to make sure that all reporters are going to have access to the information they need via a simple link. You can provide this link either during the show or in a follow-up. Make sure you include detailed specs, availability, pricing, high-res images and such like. If you are thinking about doing a giveaway, make sure you provide something that your audience is going to value. A lot of companies give away candy, for example. All this is going to do is attract hungry strangers to your both. 

Nail down the logistics

- The final piece of the puzzle is to make sure you organize the logistics side of things. You are going to need to get your booth and all of your products to the venue after all. CES is held at the Las Vegas Convention Center, Las Vegas, Nevada. This is where aligning with an experienced freight forwarding company comes in. 
How Much Does it Cost to Exhibit at CES?
Of course, you need to make sure that you can afford to exhibit at CES. In terms of specific prices, these are going to differ from year-to-year. However, according to TechCrunch, the event will cost approximately $8,000 for a booth. 
What about those who want to attend? In order to be able to attend CES, you need to ensure you provide your business credentials to the company so that your affiliation with the consumer technology sector can be verified. Any of the following will be accepted as proof of your industry affiliation:
A link to a media article that you were cited or quoted in, or that you wrote, which shows that you are an industry professional. This must have been published within the last 12 months.

A link to your business website that shows your name on an employee roster.

Verification of your employment on the business letterhead.

A business card that matches the name of the business you are attending. 
You are also going to need to pay a fee in order to attend. At the moment, you have three different options; CES registration, starter conference pass, and deluxe conference pass. Prices are set to increase on December 18th 2019. At the moment, CES registration costs $100, yet it will increase to $300 in December. The start conference pass costs $700 at the moment, yet it is set to raise to £900. The early bird price for the deluxe conference pass is $1,400. However, this is also going to increase to $1,700 in December. 
Need help shipping your trade show booth and materials?
Fill out a short form or give us a call and one of our trade show specialists will answer your questions.
CES Checklist for Vendors
When it comes to attending a trade show, you are going to have so many different factors to consider. Planning a year in advance is recommended. 
12 Months Before the Show
So, let's begin by taking a look at some of the different steps that you should take around 12 months before the show takes place. This involves identifying the role that the trade show is going to serve as part of your overall sales strategy and marketing campaign. Why is attending CES important for you and your business? Once you have established this, you will be best placed to get buy-in from your organization. You then need to make sure you put together a detailed forecast and budget.
In addition to this, there are a number of other things that you should do around nine to 12 months prior to the show. This includes setting certain objectives for your show, for example, publicity secured, leads generation, and the number of product sales. 
Twelve months out is also a good time for you to reserve your display stand space with CES. Make sure you get full details from them about exhibit requirements. You should also put together a trade show marketing plan that uses a mixture of promotional methods in order to teach prospects. Consider splitting your plan into 3 sections. It should include pre-show marketing, then marketing for at the show, and finally, post-show marketing.
6 Months Before the Show
Now, we move into the different activities that you should carry out around six months prior to CES. You might start by coming up with a motivating sales message that delivers your key points. It should do this within 30 seconds or less. You and your employees need to make sure this message is rehearsed so you know how to say it confidently and maximize the success of it. 
You also need to figure out your needs in terms of graphics, layout, and exhibit design. You can do this yourself or outsource to an expert. This all depends on the capability and design talent of your team. Think about your lighting needs as well. Depending on the products you are going to be exhibiting, lighting is going to play a very important role. 
You should need to determine the marketing and literature materials you are going to require for the show. You should then start designing and printing the work. It is a good idea to start looking at different promotional strategies, including high-impact trade show giveaways, that are going to enable you to attract visitors to your exhibition area. 
3 Months Before the Show
We're getting closer and closer to the big day now. There are a number of important things you are going to need to do at this point. This includes launching pre-show marketing initiatives, as well as starting to make the required travel arrangements. This may include car rental reservations, and hotel and airfare reservations, if required. 
Now is also a good time to determine how you are going to ship your display and other items for CES. You also need to determine your requirements in terms of staffing. You should plan training sessions and develop booth schedules too.
You should also continue to work with your vendors on your marketing materials, exhibit items, and your display booth. You should confirm the dates for delivery and adhere to your trade show planning timeline. Now is also the right time to order promotional items or giveaways.
Need help shipping your trade show booth and materials?
Fill out a short form or give us a call and one of our trade show specialists will answer your questions.
1 Month Before the Show
CES is in sight now. There are a number of different steps that need to be completed a month in advance. This includes scheduling dinners and other meetings to be held at the show with customers, distributors, and/or prospects. You should also finalize all travel arrangements. The marketing materials, promotional items, and booth display production needs to be finalized now too, as well as confirming the shipping dates. 
Between now and a week prior to the trade show, you should double-check that all action steps on your timeline have been covered. You should also confirm all of the shipping arrival dates for your materials, promotional items, and booth display, as well as completing staff training.
You also need to schedule staff training, make all travel arrangements, and continue pre-show marketing activities. Finally, put together follow-up packets and send these immediately to your leads following the show. 
Day of the Show
On the day of the show, you need to make sure that all of your employees have been briefed so that everything runs as smoothly as possible. You will have also been given timings with regards to the running of everything, so make sure that you adhere to this. Being organized in advance will ensure the day of CES is a breeze. 
There are also a number of different steps you need to take immediately after the trade show. Compare your budget to your expenses to determine your ROI. You also need to assess the success of your participation in CES compared with the objectives you outlined in your trade show plan. Furthermore, make sure you evaluate your leads. You should also send follow-up packets and make contact as appropriate. 
Shipping to CES with R+L Global Logistics
Hopefully, you now have a better understanding of the different qualities you need to be looking for when it comes to choosing the best company to help you with trade show shipping for CES. This is one of the most famous trade shows in the world, and it is not hard to see why you're considering making the most of it. You will need a company to help you with this, though, and that's where  R+L Global Logistics comes in.
Our trade show shipping team is dedicated to making your requirements are met for all sorts of shows, including everything on your SEMA checklist. With over 50 years of combined experience across our leadership team, you can be sure of exceptional results when using our service.
Trade show logistics is an area that we have a lot of experience it. We have built up strong relationships with exhibit systems providers over the years. These providers rely on us and trust us to provide a seamless customer experience. With us, you can be sure you're in safe hands. We have warehouses across the country, as well as having strong relationships with leading shows and being partners with exhibit providers.
This makes certain that we have all bases covered when it comes to providing exceptional trade show logistics services, from the CES checklist to getting your booth there on time and intact. If you would like more information about the trade show trucking companies services that we provide or you want a free trade show freight shipping quote, all you need to do is give us a call at (866) 415 8986 or reach out online.