It takes more than a well-designed booth to get attention at a trade show. You need to have a booth staff that is spot-on and looks sharp. This means trade show exhibitor attire is important. You booth staff's appearance is an essential part of your overall presentation and can make or break how you perform on the trade show floor. 
Trade show exhibitor attire should be neat and polished. You might opt to have your booth staff dress in professional attire, business casual attire or even casual attire depending on the show you're attending. Other tips to follow include:
Encouraging staff to wear coordinating outfits
Adding company branding to your attire
Wearing appropriate attire for your industry
Understanding less is more when it comes to accessories
Following a neat grooming protocol
How Should I Dress for a Trade Show?
Your appearance can make or break your trade show performance. Looking polished can professional can make your brand stand out and complete your vision for how your company is represented. 
When you're working a booth, you need to be aware that trade show exhibitor attire is extremely important. But choosing what to wear can be difficult. The most basic rule to follow when thinking about how to dress for a trade show is to dress for your environment. Everything from yoga pants to a suit and tie can be appropriate for a trade show, depending on the setting.
For example, if you're promoting jerseys at a sports expo, you might wear a company-branded jersey with athletic wear. If you're showing off the latest scientific innovation, you might wear a lab coat over a shirt and tie. It all depends on your audience, the venue and your product.
Even with this in mind, there are a few basic rules to follow. Check out our list below of trade show exhibitor attire tips and get ready to dress for success.
Need help shipping your trade show booth and materials?
Fill out a short form or give us a call and one of our trade show specialists will answer your questions.
Wear Coordinating Outfits
One way to prevent a cohesive look is to dress trade show booth staff in coordinating -- not matching -- outfits. Choose a color that represents your company's brand or products and encourage trade show exhibitors to dress in this color. Maybe this means everyone wears a green shirt that represents your company's logo, but in different styles.
Building your trade show exhibitor attire around a single color can build upon your corporations identity. It can give your booth a cohesive look and show off your staff as company representatives. On the same token, wearing coordinating outfits instead of matching outfits presents a united front without looking like a uniform.
Add Company Branding to Your Attire
Adding a piece or two of company branding to your trade show exhibitor attire can help fellow vendors and attendees identify and associate you with your company. Subtle company branding isn't as in your face as a shirt with a huge logo. Subtly can go a long way when it comes to displaying a company brand.
Company branding like a button on the lapel of a jacket isn't or a simple branded lanyard isn't as "in your face" as a bold logo. These can also add pieces of flair to your outfit, help identify where you work and who you represent, and not dominate your attire. Wearing branded attire can present your trade show team as a cohesive unit.
Are you planning on shipping to a trade show? Check out our list of 8 Essential Tips for Shipping to a Trade Show.
Dress for Comfort
Working a trade show booth can mean long hours and lots of time on your feet. This means you need to dress for comfort. This also means function might overrule fashion when it comes to choosing what you're wearing. You don't want to wear something fussy that requires frequent adjustments. Comfort is king. Remember you'll be standing on your feet for hours at a time.
When it comes to working the trade show floor, function rules over fashion. Ladies, be mindful of your shoes. If you must wear heels, make sure they are low and wide. Remember you'll be on your feet for hours and pacing the trade show floor, so it might be wise to leave your tallest stilettos at home. It's also a good idea to choose a professional wardrobe. You don't want your look to be distracting to attendees, so it might be wise to err on the more conservative side for your wardrobe. Business casual attire might be your best bet.
Both men and women might want to pay attention to the fit of their clothes. The fit of your clothing when you're working an expo hall should be tailored and non-restrictive. You'll appreciate the comfort well-fitting garments will provide. 
You might also consider outfitting your booth with anti-fatigue floor mats to keep your feet and legs comfy and energized during the show. This will increase comfort and prevent you from standing on hard flooring or even concrete all day.
Another way to stay comfortable on the trade show floor is to have the right items at hand. It might be wise to carry a large purse or briefcase to the show to hang on to business cards, snacks and other essential items.
Sport Industry-Appropriate Attire
It might be a good idea to follow industry appropriate standards when choosing your trade show exhibitor attire. Your trade show attire should depend on what is expected and acceptable in your industry.
For example, if your booth represents the fitness industry, formal attire isn't required -- workout clothes might set the right tone. On the other hand, if you are presenting the latest in financial software at a banking conventions, full suits might be required. If you're presenting at a medical conference, again, business suits and business professional clothing is likely the best option. Save polo shirts for more casual conferences.
Need help shipping your trade show booth and materials?
Fill out a short form or give us a call and one of our trade show specialists will answer your questions.
Remember Less is More for Accessories
In most cases, less is more when it comes to accessorizing your trade show outfit. 
Women who are wearing formal or business attire to the trade show might want to minimize their accessories to let their products and personalities shine. You can add pizzazz to your outfit by adding a bold colored blouse. Subtle patterns can also look great with business attire. This will give you a timeless look you can wear anywhere.
Gentlemen working the trade show floor might also want to achieve a timeless look by sporting minimal accessories. Accessorizing by matching your shoes to your belt can give you a put-together look. 
The key to choosing accessories for a trade show is to aim for a professional and well-kept appearance. A classic look can appeal to the show attendees and give your booth staff an inviting air.
Follow a Neat Grooming Protocol
No matter what you wear, you want to look neat and professional when you're working the trade show floor. This can mean following a neat grooming protocol. 
For both men and women, it's important to be squeaky clean. You might find yourself breaking a sweat as you work the floor and interacting with potential clients and passers by. This means deodorant is a must and you might need to reapply during the day. If you wear perfume or cologne, remember that a light spritz is all you need. You don't want to overpower someone with your fragrance or bother a potential client's allergies. 
Breath mints will keep you minty fresh and prevent you from smacking on gum as you work the trade show floor. Chewing gum can be off-putting to some and you don't want to offend anyone on the floor.
Managing Trade Shows with R+L Global Logistics
Trade show exhibitor attire is just a piece of all the moving parts of managing a trade show. Another important piece of the trade show puzzle is making sense of trade show logistics. Thankfully, R+L Global Logistics is prepared to be your partner. We can assist with every step of the journey, from warehousing to transportation.
You'll find that the experienced trade show freight shipping team with R+L Global Logistics has more than 50 years of combined experience in the logistics field. This means they are prepared and ready with the know-how to get your items to the show on-time and intact. 
R+L Global Logistics offers trade show shipping services including:
Packing

Warehousing

White glove delivery

Debris removal

Warehousing

And more
Customer services are accessible to you 24/7, so we're with you with every step of the journey. To reach out to the R+L Global Logistics trade show shipping team, click the button below or call us at 866-415-8986.
Whether you're a trade show first-timer, or a seasoned veteran, the right trade show snack ideas will revolutionize a mediocre booth into an unrivaled powerhouse. With a wide variety of manageable and economical snack options, determining which to include in your booth is a daunting task. Selection considerations include allergies, veganism, and religious practices, where the wrong choice alienates the crowd. So how do you advertise with a simple snack food? And how do you know which snacks are the right ones to keep foot traffic moving too, and through your booth? 
Your trade show snack ideas need to provide a source of advertising that is efficient, cheap, and will generate foot traffic through the booth. There are two things to keep in mind:
Placing a company logo on the packaging is key, as most snack foods are carried around, and when unfinished, will be taken home. 
When you think of a cheap yet desirable trade show appropriate snack food, think of snacks typically consumed at sporting events such as popcorn, peanuts, and hotdogs.
These snack foods are manageable enough to be consumed while mobile, keeping attendees moving through your booth instead of finding an isolated location to sit. 
How Do You Attract Customers to a Trade Show?
Regular trade show goers will tell you the atmosphere is unapologetically competitive for attendee attention. Bringing customers to a trade show booth is trouble-free when the right tactics are employed. Free snacks are the pinnacle of incentive since most people subconsciously act on their body's needs. When you visit your local mall, have you noticed how cars typically congregate around the food court entrance? People visit malls to shop, but subconsciously park near the food court because their body follows instinct. So how can we translate biological tendency into booth ideas?
The factors our body considers when pulling us in a direction primarily incorporates smell. Smells are the first factor that gets us moving. Furthermore, proper presentation and placement of snacks will anchor them at your booth.
When an attendee enters the trade show, what are the factors that bring them and keep them at a booth?
The wafting smell of popcorn is likely the single most identifiable smell known. Before attendees decide which direction to head in, they're already heading towards you.

Have fresh snacks. It may smell good, but if it's old, potential customers will pass by. Popcorn machines are extremely economical, so keep it popping.

Make snacks upon request. This allows the guest to open the avenue of conversation, letting you organically speak about your products and services.

Keep snacks towards the back. Instead of grabbing and going, attendees will admire your booth before moving on.
It can't be overemphasized how fundamental fresh snacks are for a trade show booth. This simple inclusion creates a more natural flow of conversation, keeping you from being the person who yacks at every passerby, obnoxiously peddling your wares. Letting attendees initiate conversation creates a more natural flow for sales pitches, and with a snack in the hands of a potential customer, serious business discussion feel like comfortable lounge area chats.
Need help shipping your trade show booth and materials?
Fill out a short form or give us a call and one of our trade show specialists will answer your questions.
3 Trade Show Snack Ideas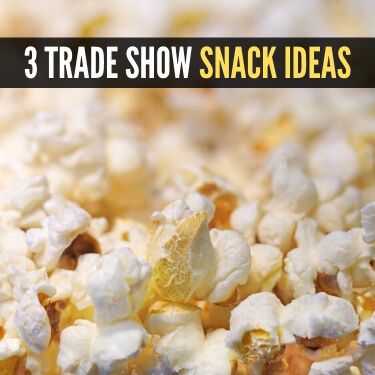 When we think of snacks, we envision something that's easy to carry around on the go,  tides us over between meals, and are a lot of fun. Take those fundamentals and carry them into this section. That's the prototype our concept will build upon. In a trade show, you want snack foods that keep your audience mobile through your booth, and doesn't fill them up, as this creates drowsiness.
Promotional Food Items
The three main food groups of a trade show.
Popcorn is a trade show staple. When you offer free popcorn in a bag stamped with your company's logo, you've accomplished two major things: increased an attendee's chance of stopping by, and put an advertisement in their hands. Have you ever rolled an unfinished bag of popcorn closed and took it home? With a logo on the bag, they'll glance at your logo with every handful. Popcorn will likely be the best ROI you ever make.
Peanuts offer the same level of financial ease as popcorn, and can also be taken home. Keep these in a separate container, as peanut allergies are one of the most common.
Hotdogs are a favorite amongst Trade Show goers, and will generate intense foot traffic. They are typically either fully eaten, or discarded after partial consumption, so while they will attract a crowd to your booth, they will not provide advertisement in the take-home/packaging sense the first two options will.
Offer Samples
For culinary-focused booths, having fresh samples of your products is a must. Keep religious practices, veganism, and allergies in mind, and try to have separate samples that caters to all three templates. If your products are focused on a niche, convey it through your booth design. It It is also wise to keep a steady foot on the samples you peddle. Don't set samples out front where every passerby can snatch a few and dash, otherwise you may run out before every potential customer has had an opportunity to have one. Additionally, wait until closing time to give seconds. Not everybody knows to not take more than their fair-share before everybody else has had one.
Make it Interactive
How can snacks convert to sales? Create a trifecta between snacks, entertainment, and trade show marketing! Instead of handing snacks out, give them away as prizes, or for completing a task such as subscribing to your mailing list. Use snacks as that catalyst that creates lasting connections between your company and a customer.
Give a snack reward for subscribing to your social media page. This is the era of social media and touch screens, and free snacks will amplify company exposure.

Prize wheels are eye catching, and a lot of fun! When you put snacks up as a prize, people love to play. 

Creating a seminar, or video for people to participate with, and give a snack for participation. This makes it more of a reward than a choir.
When trade show attendees receive a snack, it will likely be the first interaction a potential customer has with your company. First impressions take between five and fifteen seconds to form, and last a lifetime. Make sure it's a fun encounter, and don't be overbearing. Excessively keeping attendees at your trade show booth will keep the same faces there, stifling others from filtering through. Any game or event marketing should be time efficient, and snack rewards should be rewarded hassle-free.
Need help shipping your trade show booth and materials?
Fill out a short form or give us a call and one of our trade show specialists will answer your questions.
Shipping to a Trade Show with R+L Global Logistics
Now you understand how to make your trade show snacks a success! Unfortunately, unforeseen events can still cause mayhem. With the R+L Global Logistics team on your side, neutralize the chances of disaster occurring with our dedicated professionals transporting your booth articles. No matter the configuration or dimensions, we'll handle all the hard manual labor, leaving you fresh and able to focus on continued success. With our professional trade show freight service, and superior customer support, we will work hand-in-hand with you to understand your business needs and overcome any challenges presented to deliver the best possible service. 
Thank you for improving your trade show floor experience with our trade show snack ideas article. We wish you only the best with your endeavors. For more information in the self-investment you make when you choose our trade show experts, please feel free to reach out to our team with any questions or concerns. Get your quote today!
Working with a trade show labor union can be confusing, expensive, and exhausting. Not only is there a huge list of very specific rules that must be strictly followed, but those rules can vary wildly depending on the state, city, and even the venue. The same trade show hosted at the same venue might even have different trade show union rules year over year! To make matters even worse, most organizers require you to sign a contract before you can secure your booth spot. So, how can you manage all these restrictions and make the most out of your trade show experience? 
Trade show union rules aren't as difficult to understand as they seem. Most of the setup is left to union workers, such as moving freight, decorating, I&D, rigging, carpentry, carpeting, electrical work, plumbing, and audiovisual setup. However, if you ask the show management, there might be small jobs that you can do to try to cut labor costs. 
What is a Labor Union?
A labor union is a type of membership program for tradespeople and laborers. By paying a membership fee to be part of the union, union members are provided with representation in contract negotiations to ensure that they are paid fairly, given appropriate benefits, good hours, and safe working conditions on all jobs that they are contracted for through the union. The union can also provide educational materials, vacation plans, and insurance. 
In 23 U.S. states, laborers are required to work under a union. The other 27 states, however, are considered "right-to-work" states, in which working with a union is voluntary.
Need help shipping your trade show booth and materials?
Fill out a short form or give us a call and one of our trade show specialists will answer your questions.
What do Labor Unions Have to do with Trade Shows?
Trade show organizers establish contracts with labor unions in order to set up the showroom and all the booths. Although it can be a pain for exhibitors, utilizing a labor union is a good way for the organizer to keep track of all the work that is being done and ensure that it is done according to all appropriate safety regulations. 
Depending on whether you are in a right-to-work state or not, you could have different experiences with setting up at a trade show. Not all trade shows have union contracts either. However, regardless of the state you are in, you definitely should not try to circumvent the trade show union rules. If you are found breaking the rules, you may get fined the amount it would cost to pay the laborers anyway, and you may even be asked to leave.
Trade Show Labor Union Rules
Although the rules and regulations vary depending on the venue, there are a few jobs that are consistently left to professional laborers. Although this list might not be correct for every single trade show, here are a few of the jobs that are almost always left to union labor.
Moving freight:

This type of work usually consists of lifting heavy objects, unloading trucks, and operating forklifts.
Installation and Dismantle (I&D):

I&D work involves setting up and tearing down the booth itself. Sometimes, exhibitors are allowed to help with this part, but it depends on the city, venue, and size of the booth.
Rigging:

This work involves moving freight off pallets and out of crates, and position large equipment in booths. Riggers hang signs as well, if the signs require using a ladder to put up.

Carpentry:

Sometimes booths or halls require carpentry work, such as assembling furniture and displays, or even a stage. Sometimes, a carpenter is needed just to drill a hole.

Carpeting:

During a trade show, a carpet is laid down on top of the convention center's floors to protect them. This is often left to either a carpenter's or decorator's union, but a specialized carpeting union can be hired as well.

Electrical:

Electrical cables for a show are set up underneath the trade show carpet to hide them from view, and to prevent anyone from tripping over them. 

Plumbing:

When a booth deals with water, sewage, gas, refrigeration, or ventilation, that falls under the jurisdiction of a plumbing union.
Theater:

This involves setting up all audiovisual equipment, adjusting lighting for shows, setting up microphones, adding sound effects, and manipulating stage props.
When setting up at a trade show, you should absolutely not attempt to do any of the above jobs by yourself. Even though union labor can often be expensive, especially if you have to pay double time for early setup, it is not worth getting in trouble with the venue owner and potentially getting fined or kicked out.
Union stewards patrol the halls of the convention center, on the lookout for anyone that could be breaking the rules. If you have any questions, take them up with the trade show management. Do not assume that you can use ignorance of the rules as an excuse for breaking them.
Need help shipping your trade show booth and materials?
Fill out a short form or give us a call and one of our trade show specialists will answer your questions.
What Can You Do?
If you've ever gotten busted at a trade show for something simple, like plugging in a power cord, then you're probably pretty frustrated with how nit-picky the union stewards are. Union labor is expensive, after all. Thankfully, there are some tasks that you can usually get away with doing yourself. 
As always, talk to your specific trade show organizers before trying any of the below tasks, but any full-time employee for your exhibiting company should be able to do some basic setup and maintenance. 
The Common Exception Rule:

If your booth is smaller than 10' by 10', does not require any tools, and can be assembled in less than 30 minutes, then you should be allowed to set it up yourself.
Basic cabling:

Most shows will allow you to plug in basic 110V cables and lights, so long as the cables are left above the trade show carpet, and are not unsightly. 
Vacuuming:

In most cases, a request to have someone vacuum up a small section of your booth will be dismissed. Most places won't think much about you bringing your own vacuum and tidying up any dust and debris that might have fallen into your booth during setup.
Setting up equipment:

chances are you will be permitted to set up your own company's equipment, such as computers, printers, and any company products that you will be displaying or using.
Supervise:

If nothing else, you will be allowed to supervise the union workers putting your booth together, and you maintain the right to stop them if they are mishandling your materials or doing something you do not like to your booth. 
Working with a union can be frustrating, but just try to be patient, and ask questions about what you will and won't be allowed to do. Organizers and unions aren't always upfront about the things that you can do yourself since they make more money if you use the union labor. And remember, it is much better to ask for permission than forgiveness in this case.
Trade Show Shipping with R+L Global Logistics
While you're getting ready for your show and preparing to deal with all the trade show union rules, let us take some of the stress off your shoulders. With our trade show shipping services, we can make storage, shipping, uncrating, recrating, and show-to-show shipping a breeze! Our experienced team of experts is available to chat 24/7 and can offer unmatched customer service and flexible solutions to meet your unique needs. In addition to real-time freight visibility for the entire trip, we can get your booth delivered to you exactly when you need it, no excuses. Our 99.5% on-time delivery record speaks for itself. 
Contact us today to request your free trade show shipping quote!